DFW's Trusted Leader in Restoration and Clean-Up, Since 1976
24/7 Emergency Services
Over 68,150+
Successful Restoration
Projects Complete
24/7 Emergency Services
Free Estimates
Work Directly with All Insurance Companies
Bounded & Insured
Disinfecting Services for Gyms & Fitness Centers in DFW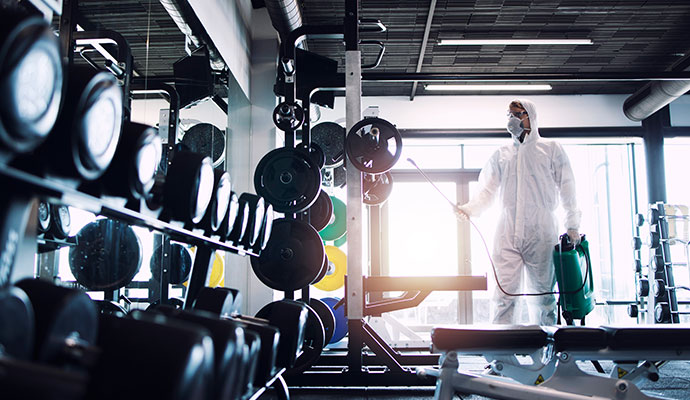 With so much sweat and body contact with machines and equipment in a confined space, it's no surprise that many viruses lurk inside gyms. Despite your best intentions to keep it clean, it is hard not to leave behind invisible germs and microorganisms that can cause health risks.
One way to solve the problem is to seek professional help for properly disinfecting and sanitizing your gym inside out routinely besides taking regular precautions. At Dalworth Restoration, we provide the safest and most complete disinfecting solutions to protect gym employees and gym members from any kind of infectious diseases in McKinney, Fort Worth, Arlington, Denton, Colleyville, and other North Texas cities.
Founded in 1976, our company provides 24/7/365 emergency services and our experts can get into your site within hours of being contacted. So if you are looking for a fast, reliable, secured & experienced professional disinfecting service provider for your gym, call us today at 817-203-2944 or make a reservation by clicking here.
Cleaning, Sanitizing, & Disinfecting DFW Gyms & Fitness Centers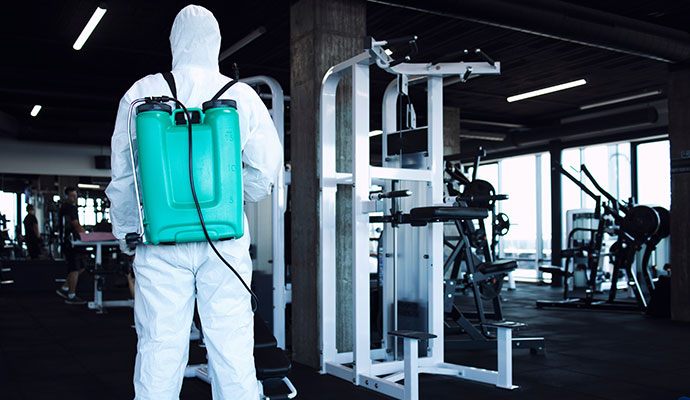 Our certified crews from Dalworth Restoration will reach your location geared with full Personal Protective Equipment (PPE), and will clean, sanitize and disinfect every corner of your place: 
Disinfecting Gym Equipment
Disinfecting Different Workout Areas: 
Cardiovascular area
Functional fitness area
Free weights area
Stretching and mobility area
Personal training corners
Disinfecting Restrooms
Disinfecting Storage Space and others.
Minimizing & Eliminating Fitness Facility Health Risks with Dalworth Restoration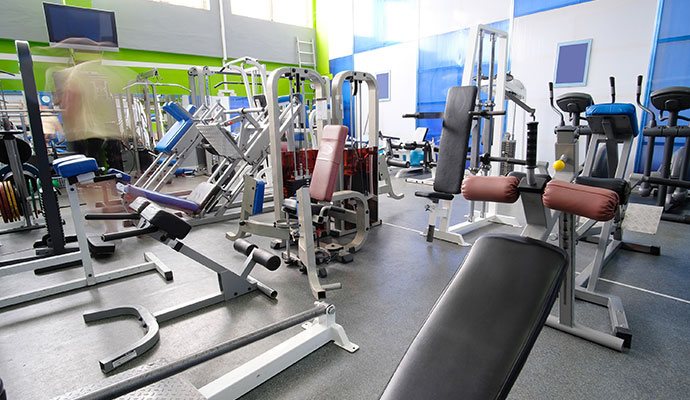 Cleaning and disinfecting can provide extra protection against germs, viruses, bacteria, and other harmful microorganisms including those that may cause disease, serious health risks, and even death in some cases such as:
Covid-19/Coronavirus: There are many ways COVID-19 can spread from one person to another in a gym. One way it can be transmitted is through direct contact i.e. with the respiratory droplets of an infected person-generated while sneezing, coughing, and even while talking. People also contract the virus by touching their face, nose, mouth, and eyes after coming in contact with contaminated surfaces.
Staph: One of the most common germs hiding in gyms is the staphylococcus bacteria.
Athlete's foot: Some types of fungi thrive in warm, dark, and moist environments, which sounds a lot like the pair of shoes you work out in, or the locker you leave your towel in. 
Ringworm:  Ringworm is a fungal infection that appears as a scaly circle on the skin, occurring anywhere on your body. The infection thrives in wet environments, so sweaty machines or equipment are the ideal conditions for them to grow.
Cold and flu: Respiratory illnesses are among the easiest spread, as they are transmitted through the droplets of coughs and sneezes, which stay alive for some time outside of the body.
Plantar warts: Plantar warts can be the virus behind cervical cancer, genital warts, and more.
Impetigo: Impetigo can be caught through cuts and abrasions on the skin, resulting in sores that ooze, burst and crust over. The bacteria often lie dormant on the skin, and staph or strep bacteria entering the skin is what causes the symptoms. In the gym, it's passed around through sharing towels or touching another person.  
Gym & Fitness Center Disinfecting Solutions We Provide
We can also make your gym safer by disinfecting against Cold, Flu, E. coli, Salmonella, Staph, Hepatitis B, and other serious contaminants. Our treatment covers all parts of your space and will be:
Safe & Non-Toxic
Environmentally Friendly
Affordable
Green Seal Certified
Safe For Children 
FDA Approved
EPA Registered
Salt-Free & Non-Corrosive
Why Choose Dalworth to Disinfect Your Gym in Dallas & Fort Worth?
All solutions under one roof: We provide all kinds of disinfecting services. You will also get FREE, no-hassle, and no-obligation quotes and inspection services.
A diverse field of experience: Nearly 40 Years of restoration and clean-up experience and completion of over 57,200 successful restoration projects.
Responsiveness: 24/7 emergency response services and stand-by call centers to take your calls.
Quality: State-of-the-art, energy-saving equipment, and techniques.
Recognitions & Accomplishments: We are a member of the Better Business Bureau (BBB), have IICRC Clean Trust Certified Technician, and provide ANSI/IICRC S500-Standard Restoration Services.
When it is time to protect your gym members with disinfecting solutions, it is time to get in touch with Dalworth Restoration. Our skilled technicians deliver professional industrial disinfection services. We also provide contents restoration. When you need our services, call 817-203-2944 or click here to schedule a disinfecting service today in Dallas, Irving, Plano, and other cities throughout the DFW Metroplex.