DFW's Trusted Leader in Restoration and Clean-Up, Since 1976
24/7 Emergency Services
Over 68,150+
Successful Restoration
Projects Complete
24/7 Emergency Services
Free Estimates
Work Directly with All Insurance Companies
Bonded & Insured
Kitchen Fire Damage Restoration Services in DFW
No matter how excellent a cook you are, calamity can still happen at the worst possible time. Anything from an empty pan or malfunctioning oven to a pool of oil in the wrong place might start a fire in the kitchen. A kitchen fire may do a lot of damage, even if you put it out immediately with a fire extinguisher.
At Dalworth Restoration, we have trained experts for fire damage restoration who can help you restore your property quickly after a fire. Since 1976, we have been providing full fire damage restoration services after any residential fire. To get our services, make an appointment today at 817-203-2944 or click here for more information. We serve our customers in Haltom City, Flower Mound, Lewisville, and throughout the Dallas-Fort Worth region.
Importance of Emergency Kitchen Fire Damage Restoration Service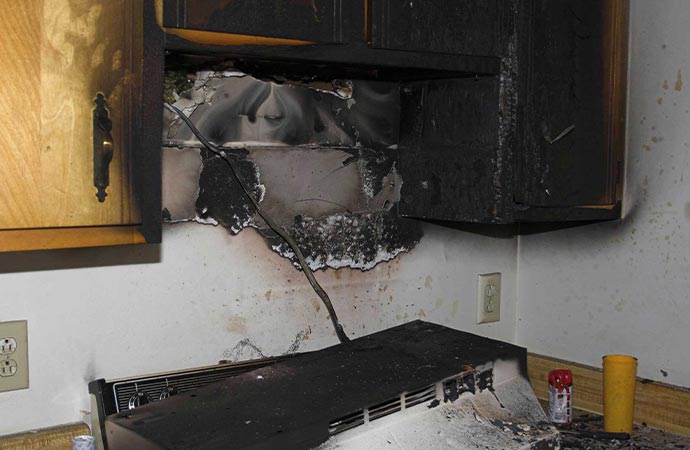 Smoke and soot removal: Even small kitchen fires can create a lot of smoke and soot, which can be challenging to remove from your home. These substances can also cause health problems if not correctly cleaned up. A fire restoration service provider has the tools and expertise to clean and remove smoke and soot from your home thoroughly.
Water damage restoration: If the fire was extinguished with water, you may also need water damage restoration services. If you don't fix water damage right away, it can cause more damage to your property and create mold and other health risks.
Insurance: Many homeowners insurance policies cover kitchen fires and the resulting damage. However, to make a successful claim, you must have documentation of the damage and the restoration work done. Dalworth Restoration can assist you in claiming your insurance.
Trust Dalworth Restoration for Kitchen Fire Damage Restoration
All of our technicians at Dalworth Restoration are IICRC-certified and committed to giving you the best service for kitchen fires and making you happy. We also help customers fix damage caused by smoke and soot, remove smoke from duct systems, fix fire damage, and more. Call 817-203-2944 or contact us online to get our services or to learn more.