DFW's Trusted Leader in Restoration and Clean-Up, Since 1976
24/7 Emergency Services
Refrigerator and Ice Maker Leak Cleanup in North Texas
Refrigerators and ice makers need to be inspected regularly to make sure all parts are functioning correctly. If not properly maintained, these appliances can leak, which causes a potential for water damage and mold damage. Water and mold can damage your kitchen and its floors and walls, as well as floors in your residential or commercial property.
If you have a flooded kitchen due to a refrigerator or ice maker leaking, contact Dalworth Restoration for water and flood cleanup services in the Dallas/Fort Worth Service Area. We are standing by to take your call at our 24/7 Emergency Hotline for your emergency leak repair.
Refrigerator and Ice Maker Leak Tips
Below is listed a few possible causes of your leaking refrigerator and ice maker, including: 
Clogged or Frozen Defrost Drain
Damaged or Loose Water Lines
Damaged Water Tank Assembly & Water Filter Housing
Damaged or Rusted Drain Pan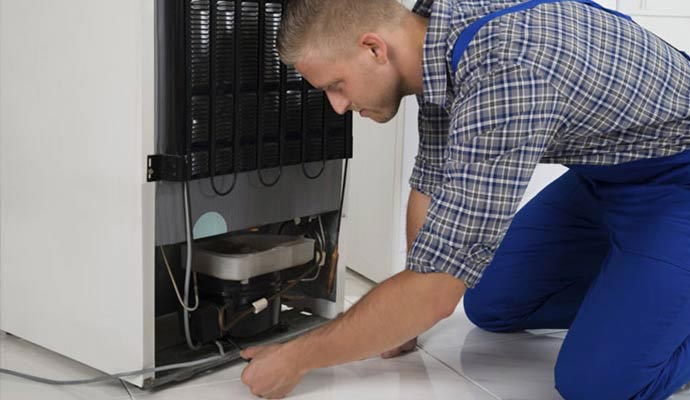 If you have pressurized lines bringing water into any of your appliances, check these supply lines on a regular basis. Make sure that all fittings are tightened and that there is no damage to the lines themselves. If your refrigerator or ice maker leaks or floods, call Dalworth Restoration today at 817-203-2944 for an Inspection and Estimate for all of our water cleanup and water damage restoration services.
We also offer Appliance Leak Cleanup and water extraction, structural drying, and water damage restoration services for:
Contact Dalworth Restoration for residential and commercial water damage restoration and appliance water overflow cleanup services in our Dallas/Fort Worth Service Area.
Professional Customer Service
Dalworth Restoration's IICRC Certified Restoration Crews know how to expertly extract, remove and clean up water from a leaking HVAC system or leaking appliance according to the best practices and ANSI/IICRC S500 standards set by the Institute of Inspection Cleaning and Restoration Certification (IICRC). 
Available 24/7 Everyday
On Site In About An Hour
State-Of-The-Art Drying Equipment