DFW's Trusted Leader in Restoration and Clean-Up, Since 1976
24/7 Emergency Services
DFW's Trusted Leader in Restoration and Clean-Up, Since 1976
Over 62,000+
Successful Restoration
Projects Complete
24/7 Emergency Services
Free Estimates
Work Directly with All Insurance Companies
Bounded & Insured
Plumbing Overflow Cleanup in Dallas/Fort Worth, Texas
Dalworth Restoration is a leader in disaster cleanup and residential and commercial restoration in North Texas. Contact us now. Our expert project managers and emergency disaster restoration crews will meet you on site to survey your property damage and to develop a disaster restoration plan for immediate action. Call us now at 817-203-2944 for emergency restoration services in our North Texas service area.
Our disaster cleanup crews are available 24/7 to deliver our disaster cleanup and recovery services. We combine state-of-the-art equipment and techniques and a commitment to caring that are second to none. We do the job right the first time, and we stand behind every job we do. Start to finish.
Professional Board Up and Roof Tarping Services
Temporary Fencing Services
Water Extraction and Structural Drying
Structural Debris Removal and Repair
Reconstruction and Remodeling
Electrical Wiring and Plumbing
Content Salvaging
Smoke and Soot Removal
Catastrophe Recovery
Reconstruction
Post-Construction Detail Clean-Up
Dalworth Restoration provides both residential and commercial emergency restoration services. Commercial and residential restoration projects are similar in regard to service and execution, but they are much different in scale and proportion. While both require timely disaster recovery services following fire, smoke or water damages, commercial enterprises usually need restoration on a much larger scale and require more intricate and complex logistics to execute the disaster restoration plan.
Each project requires a different preparedness plan that is geared toward coordinating the minutest of details with the sequential tasks targeted at property cleanup and recovery before, during and after a disaster. Dalworth Restoration is better prepared than the competition to fully resume your property to regular operations before, during, and after a disaster, since we implement and execute complete disaster recovery assistance measures, including a specialized disaster restoration plan of action. Contact us today to start your the restoration process.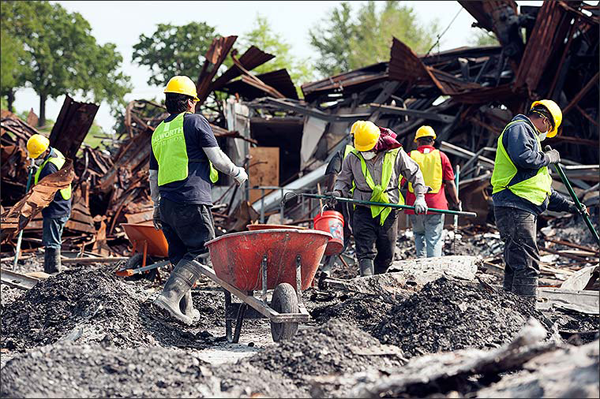 Certified Disaster Restoration Cleanup Crews
Dalworth Restoration's experienced Certified Restoration Crews excel at debris cleanup, structural repair and large-scale emergency disaster restoration and will:
Minimize the damage of a water, fire, storm or flood disaster
Respond to the emergency in a precise and timely manner
Mitigate damage and began disaster cleanup immediately
Create a commercial or residential disaster recovery plan
Why Choose Dalworth Restoration
We've been in the fire damage restoation and water damage clean up business in the Dallas-Fort Worth area since 1976. We have the experience and advanced equipment to perform debris removal, water extraction, water removal, water damage restoration and reconstruction to restore your business to pre-loss condition. All of Dalworth Restoration's technicians are IICRC Clean Trust Certified Technicians with the experience and training to safely and effectively perform our emergency damage restoration services according to industry standards.
Member of Disaster Kleenup International
Member of the Better Business Bureau (BBB)
Nearly 40 Years in Water Damage Restoration
Licensed and Insured in the State of Texas
IICRC Clean Trust Certified Technicians
State-Of-The-Art Drying Equipment
Infrared Testing to Locate Damage Not Visible
ANSI/IICRC S500-Standard Water Damage Restoration Services
Call us today at 817-203-2944 to begin the emergency restoration process now. Dalworth Restoration has experience cleaning up and restoring numerous properties from disasters, and we have been a member of Disaster Kleenup International since 1997.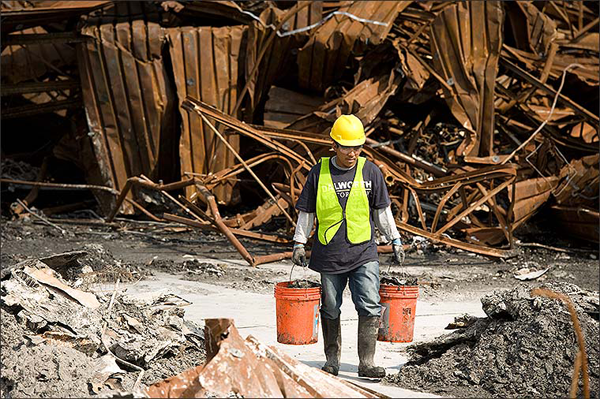 Contact Dalworth Restoration
Contact us now at 817-203-2944 to begin the disaster recovery process. We are standing by to dispatch a crew to your location in Dallas, Arlington, Grapevine, Bedford, Colleyville, Euless, Hurst, Keller, Kennedale, Mansfield,North Richland Hills, Southlake, Fort Worth, and in cities in our North Texas service area.