DFW's Trusted Leader in Restoration and Clean-Up, Since 1976
24/7 Emergency Services
Prepare For Disaster With 4 Easy Steps
Disaster comes in all shapes and sizes.  Whether there are flames burning through your walls or water gushing into your rooms, or perhaps a hurricane is forecasted to head your way, not being prepared can sometimes be the difference between life and death.  However, if you have planned in advance and prepared for disaster to strike, then you have a better chance at saving yourself, as well as your sanity.
4 Steps for Disaster Preparedness
1. Build A Kit
Emergency Kits are easy and inexpensive to put together and can be extremely helpful in a time of need.  You will be thanking yourself for making one (or multiple).  Keep them beside where you sleep or a closet by the front door so you can grab them in a hurry.  Some of the basics you'll want to have are:
water
food
can opener
blankets, batteries
flashlight
first aid supplies. 
Additional supplies you may want to include:  a whistle, tools (wrench and pliers), toilet paper, a bright colored poncho, and local maps (no, not Google maps, the old-fashioned paper kind).  For other ideas and a complete list visit Ready.gov.
2. Don't Forget Your Documents!
We all have important documents that we would like to keep safe from a disaster.  Many of them may be hard to replace, so next to your emergency kit, have a portable file system or lock box with your important papers.  Also, make sure that you have copies of your papers and that they are in a separate location - maybe a relative's home or a safety deposit box.
3. Regularly Update Your Kit
No two families are the same and they all have different needs.  Because of this, frequently update your inventory and emergency kit and plan according to the needs of your family. Perhaps you've added a pet since you last made your kit, maybe you have older adults with specific needs living with you now or other variables. Be aware of the areas where you may need to take a non-traditional approach if necessary.
4. Have A Plan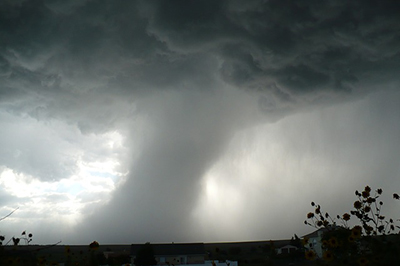 In case of an emergency have a plan in place for what you, your family and your pets (we can't forget the fur babies!) are going to do.  Know where you're going to exit and have a designated meeting spot. If you are unable to get to your home, due to an evacuation, for example, decide upon a second meeting place to avoid any confusion (make prior arrangements with a friend or family member close by to act as a place to stay).
It's also a good idea to have emergency numbers posted in a central location, such as the refrigerator, and in each of your family's cell phones.  Included in those phone numbers you may want to have one for a local company that handles disaster cleanupand will restore your home in case something does happen.
Most importantly, practice your plan often and quiz your kids a few times out of the year so that you're ready to go when the time comes.  Also, be sure to maintain protective equipment such as fire extinguishers and smoke and carbon monoxide detectors as well as your emergency supplies. 
It's Okay To Be Over-Prepared
Along with the tips above, it doesn't hurt to be informed about the types of hazards and emergencies that may affect you and your family.  Research the area in which you live to see what you may be facing for certain seasons and history of past disasters.  Make sure to plan accordingly in case something does happen.
Learn where to seek shelter from all types of hazards
Identify the community warning systems and evacuation routes
Know how and when to turn off the water, gas, and electricity at the main switches
Include in your plan required information from the community and school plans
Learn what to do for specific hazards (fire, flood, hurricane, etc) and where the safe spots in your home are
Disaster Shmaster!
Following these tips are sure to reduce your stress levels and bring you peace of mind in case something bad and unexpected does happen.  Don't put it off.  Prepare today!  Because disaster doesn't wait. 
Dalworth Restoration
When fire, flood or storm damage occurs to your North Texas residential or commercial property, contact Dalworth Restoration—a restoration company you can trust to get the job done professionally and efficiently, to your expectations, satisfaction guaranteed.
Dalworth Restoration
12750 S. Pipeline Rd.
Euless, TX 76040