DFW's Trusted Leader in Restoration and Clean-Up, Since 1976
24/7 Emergency Services
Over 68,150+
Successful Restoration
Projects Complete
24/7 Emergency Services
Free Estimates
Work Directly with All Insurance Companies
Bounded & Insured
Disinfecting Service For Hospitals & Health Care Facilities in DFW
According to the Centers for Disease Control (CDC), an estimated 1.7 million people in the United States are infected annually by hospital-acquired infections, resulting in 99,000 deaths.
Hospitals and health care facilities continuously try to limit the spread of infections among healthcare workers and patients. This is because infectious diseases can easily spread throughout the facility from all surfaces including those hard to clean contaminated equipment and high touch surfaces. In this coronavirus pandemic, it has become even more difficult to regulate and cope up. Thus for such a sensitive and important sector, it is imperative to disinfect its premise by professionals.
Dalworth Restoration has the safest and most effective disinfecting solution to free your facility from coronavirus, salmonella, E.coli, MRSA, norovirus, influenza, and other harmful diseases and chemicals. Our service areas include McKinney, Fort Worth, Arlington, Denton, Parker, Dallas, and other countries and cities of Northern Texas where we have been operating since 1976.
So if you are looking for a fast, reliable, secure, and experienced professional disinfecting company that can provide service 24/7 then call us today at 817-203-2944 to get free estimates and inspection. Our technicians can get into your site within hours of being contacted.
Hospital-Acquired Infection (HAI) Cleanup in Dallas Hospitals
Medical offices, urgent care centers, healthcare facilities, nursing homes, long-term care facilities, and hospitals, are all at risk for a hospital-acquired infection (HAI). Nosocomial infection or healthcare-associated infections (HCAI) or HAIs include MRSA, Influenza A, C-DIFF, and E. Coli, etc.
Dalworth restoration possesses certified training, the right equipment, professional disinfecting agents, processes, and staff to provide effective disinfection of all types of HAIs.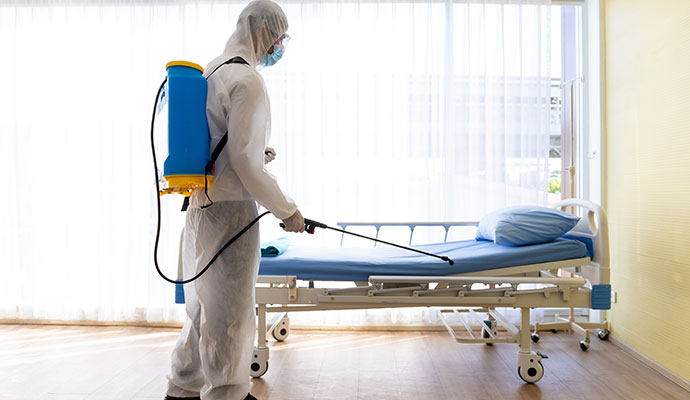 Health Care Disinfecting Methods & Tools
We utilize a 3 to 4 step process to decontaminate and disinfect, and our services and techniques are proven to return contaminated areas back to safe spaces for both people and pets.
SteraMist™ Disinfecting Products For DFW Health Care Facilities
Dalworth Restoration uses products of top brands like SteraMist™   to disinfect your facility.
SteraMist powered by Binary Ionization Technology (BIT) provides fast-acting biological kill and inactivation of harmful microorganisms, including those hard to kill MDRO's such as C.diff spores, MRSA, and the inactivation of Norovirus and influenza flu virus. Its special equipment is designed to clean, as well as disinfect and sanitize your property.
TOMI™ Environmental Solutions, Inc. is a leader in providing decontamination and infection prevention products and services. Two of its prominent disinfecting products we use includes:
SteraMist™ Surface Unit: Hand-held, fast-acting, point, and spray disinfection system. Help disinfect all surfaces, including sensitive electronics and high-touch, sensitive medical instruments.
SteraMist™ Environment System: Designed for whole room cleaning purposes.
Dalworth Disinfection Service For Dallas-Fort Worth Area Hospitals
Why Choose Us?
Licensed and Insured in the State of Texas
Nearly 40 Years of disinfectant servicing experience
Over 57,200 successful restoration project completion
Free estimates and inspection
24/7/365 emergency services
State-of-the-art, energy-saving equipment, and techniques
Direct Insurance Billing
Member of the Better Business Bureau (BBB)
IICRC Clean Trust Certified Technician
ANSI/IICRC S500-Standard Water Damage Restoration Services
Let Dalworth Disinfect Your Hospital in Dallas, Fort Worth & Arlington
Call us today at 817-203-2944 or contact us online to schedule a disinfection service in your hospital or healthcare facility. We are available 24 hours a day, 7 days a week. Wherever you hospital is located in the Dallas-Fort Worth area, we have got you covered!