DFW's Trusted Leader in Restoration and Clean-Up, Since 1976
24/7 Emergency Services
Over 68,150+
Successful Restoration
Projects Complete
24/7 Emergency Services
Free Estimates
Work Directly with All Insurance Companies
Bonded & Insured
Emergency Roof Tarp Installation in Dallas-Fort Worth
When a fire, major storm, or natural disaster strikes in Dallas-Fort Worth, you need help immediately. You may suddenly need emergency roof tarp installation at your home or office for one of several reasons:
Home catching fire damaging roof
Roof leakage
Tornados or other natural disasters causing roof damage
Spillover fire from the neighborhood damages your roof
Home Deterioration
Damage Caused by Animals
Damage to the roof caused by trees and much more.
Whatever the reason, be sure to choose Dalworth Restoration when it is time to have roof tarp services performed at your home or office. For more than 40 years, Dalworth has operated as a licensed, local, professional restoration and clean-up service provider. We provide all kinds of fire damage restoration solutions including roof tarp installation. Our service areas include Weston, Heath, Highland Park, and other Dallas–Fort Worth metropolitan areas. 
If you are looking for quality tarp and expert roof tarp installation service with emergency 24/7 response facilities call us today at 817-203-2944 for an appointment. 
Roofs We Can Cover with Tarps in DFW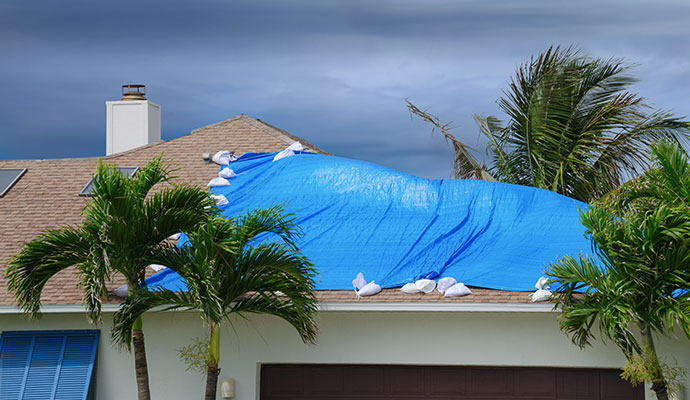 We have certified professionals, advanced techniques, and state-of-the-art equipment and facilities to install a tarp over all kinds of roofs: 
Gable
Hip
Mansard
Gambrel
Flat
Skillion
Jerkinhead
Butterfly
Bonnet
Saltbox
Sawtooth
Curved
Pyramid
Dome
Combination and more.
Why Call Dalworth for Emergency Roof Tarp Installation in Frisco, Plano, & Arlington?
We have been providing all kinds of restoration services in  North Texas and the DFW Metroplex since 1976. 
We offer a complete range of fire damage restoration services: inspection, installation, repair, replacement and maintenance, roof tarp over, smoke and soot removal, and much more for all kinds of residential and commercial properties.
To provide our customers with next-level restoration solutions we have partnered with industry-leading products and equipment manufacturers.
We also work with most insurance companies and thus understand the insurance industry rules and regulations very well. And will assist you with fire damage insurance claims to the completion of the restoration job. The work we do is generally covered in your insurance policy.
Our crews are available 24/7 to dispatch to your property and our experts are standing by to take your call at any time you might need.
We also provide other restoration services such as water damage, storm, and mold damage, etc.
To get the best roof tarp over product and installation service call us today at 817-203-2944 or contact us online and we will be happy to help you any time.