DFW's Trusted Leader in Restoration and Clean-Up, Since 1976
24/7 Emergency Services
Over 68,150+
Successful Restoration
Projects Complete
24/7 Emergency Services
Free Estimates
Work Directly with All Insurance Companies
Bonded & Insured
Emergency Board-up Service For Fire Damaged Homes in DFW
During a fire accident, a lot of heat is produced. The heat from a structural fire can cause a significant amount of damage to your home- from shattering glass windows to severe roof damage. Board-up services play an important role in preserving the home from further damage or vandalism until it is restored or someone new buys the property.
Dalworth Restoration is a licensed, local professional restoration contractor who offers all kinds of restoration services including all kinds of fire damage restoration services. Such as emergency board-up service. We offer services in Dallas, Fort Worth, Little Elm, Lucas, Blue Ridge, Grand Prairie, Irving, Lancaster, and throughout the greater Dallas/Fort Worth area.
So if you are in need of any kinds of fire damage solutions and services call us today at 817-203-2944 for a free consultation.
Retain Fire Damage Insurance Coverage
After a fire disaster, boarding up your property ensures the best coverage for your claim because the boards help prevent further water or wind damage.
Situations That Demands Emergency Board Up Service in DFW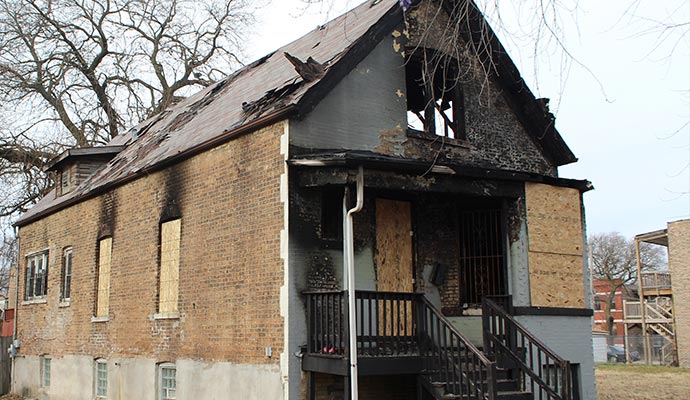 Besides fire damage, there are other occasions that may require you to seek emergency board up service:
Storm damage: Such as windstorms, tornadoes, and hurricanes.
Property vacancy: Foreclosed and abandoned properties are often left with broken windows. Board-up services can help preserve the home from further damage or vandalism until someone new buys the property.
Preventative measure: It's wise to plan ahead with board-up services when a big storm is in the forecast. In that way, you can prevent any/serious damages. All you will need to do is remove the board-ups after the aftermath.
Water damage: Such as flash floods.
Others: Other situations such as vehicle impact, crime scenes, vandalism, extreme weather, and others. 
Type of Board Up & Fire Damage Services We Offer in DFW
Board up damaged windows and doors.
Structural manipulation (to help contain building from weather)
Foreclosure / REO
Pre-Weather events / Hurricanes 
Smoke & Soot removal
Duct system smoke removal and many more.
Why Choose Us For Board Up & Other Restoration Services  in DFW
24/7 Emergency Response
On-Site In About An Hour
Insurance Billed Direct
Inspections
Estimates
IICRC Certified Restoration Crews
State-Of-The-Art Water Removal & Drying equipment
We also offer other restoration services such as water damage, storm & flood damage, and more.
When you need emergency board-up services for your home or business, call us at 817-203-2944 or contact us online and our team will be there in your location in no time.