DFW's Trusted Leader in Restoration and Clean-Up, Since 1976
24/7 Emergency Services
Over 68,150+
Successful Restoration
Projects Complete
24/7 Emergency Services
Free Estimates
Work Directly with All Insurance Companies
Bonded & Insured
Hotel Water Damage Restoration
Hotel water damage is an unfortunate, yet regular occurrence. It is definitely something management can expect and should plan for. Although not every loss is a disaster, most hotel water damage incidents, no matter how minor, are best taken care of as soon as possible. Even seemingly insignificant mishaps, when left unrepaired, can structurally damage and weaken the property, lowering real estate value, damaging business reputation, and interrupting regular operations.
Hotel Water Damage Causes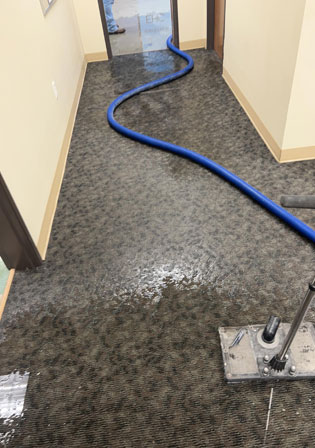 Hotel water damage causes are usually no different from residential ones. They may be a result of the following:
Floods – Flood water damage can occur anywhere, not only in floodplains. It is worst when least expected, due to a lack of contingency plan. Commercial insurance specific to covering the business needs of hotels and motels, in addition to FEMA flood insurance, should be evaluated as necessary expenses for hotel owners, considering the high cost of water damage restoration.
Burst Pipes & Faulty Equipment – Hotels have considerable plumbing and piping systems to maintain, facility-wide. These commercial systems must serve numerous guests 24/7, so they have to be reliable. Regular maintenance and repair of rusty, old, or leaky water pipes and malfunctioning equipment can prevent more costly repairs later.
Basement or Crawl Space Moisture Problems – If equipment is stored in a humid hotel basement, or if the hotel has a damp crawl space, moisture problems will cause water damages throughout the facility. Professional basement waterproofing contractors can be consulted to put together a custom solution to specific situations.
Sewage Backup – Sewage backup can cause hotel water damage, contamination and potential health hazards. The extent of exposure and porosity of affected materials determine the degree of loss to the business. Although some flooring materials may be salvaged with quick professional action, certain furnishings and textiles may need to be either salvaged off-site or discarded altogether.
Accidents and Pranks – Accidents and pranks can cost hotels thousands of dollars per incident. In fact, innocent pranks may lead to serious accidents. Since these incidents cannot always be prevented, it is best to limit the hotel's liability by maintaining an impeccably clean, well-maintained facility, as well as carrying adequate insurance coverage.
Emergency Preparedness Plan
Any commercial establishment has a vested interest in minimizing loss. Although not every water damage emergency can be predicted or prevented, it helps to be prepared and have a contingency plan for possible risk scenarios. The plan should be put together well ahead of a potential emergency. In fact, that is the most effective way to reduce the duration of business interruption. A comprehensive preparedness plan includes the following: determining an evacuation and shelter plan; training staff for emergency situations; investing in backup power and communication systems; protecting business data; carrying adequate business interruption insurance; and establishing a relationship with local restoration professionals.