DFW's Trusted Leader in Restoration and Clean-Up, Since 1976
24/7 Emergency Services
Over 68,150+
Successful Restoration
Projects Complete
24/7 Emergency Services
Free Estimates
Work Directly with All Insurance Companies
Bonded & Insured
Furniture Repair & Upholstery Restoration in Dallas/Fort Worth
When furniture such as family heirlooms are fire or water damaged, the contents restoration versus replacement decision can be a difficult decision to make.The expert contents restoration team at Dalworth Restoration can help you through the entire contents restoration process from cleaning up the fire and water damage to sorting your belongings and making the decisions as to which furniture to restore at our state-of-the-art contents facility and which furniture to replace through your insurance policy.
If you decide to restore some items and replace others, we will work directly with your insurance company to bill them for our contents restoration services while we restore your fabric furniture. Contact us today for a contents estimate and inspection of your furniture. We'll send a technician to your residential or commercial property in our Dallas-Fort Worth service area.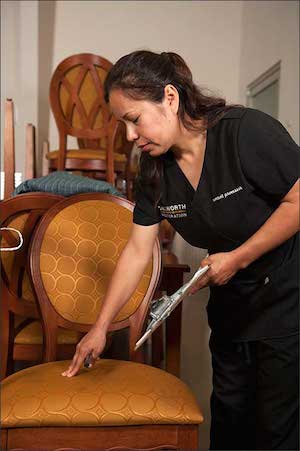 Upholstery, Wood, & Leather Furniture Restoration
Dalworth Restoration restores upholstered, wood and leather furniture and fabrics, including draperies, rugs and carpeting and rugs from water damage, fire damage and smoke damage. Our IICRC Clean Trust Certified Cleaning Technicians use specialized cleaning and contents restoration methods to restore your contents.
Our contents team can restore most items. However some items require special consideration when it comes to cost of restoration versus sentimental value. For example, you may not want to replace items such as antiques, but you may want to try to restore them since they are sentimental and difficult to replace.
Whichever items you decide to restore or replace, we'll work with you to sort, pack and transport your salvageable items to our climate-controlled facility for restoration. We'll also work directly with your insurance company to file your furniture damage insurance claim.
Call Dalworth Restoration at 817-203-2944 to get the contents restoration process started at your home or business in our North Texas service area. 
IICRC Certified Technicians
Dalworth Restoration uses ANSI/IICRC S500 standards to repair, rebuild, and restore your furniture and contents performing our services as a fully licensed construction and water damage restoration company in Texas. Our IICRC Clean Trust Certified Technians are trained and licensed to perorm all of our water damage restoration services. 
Upholstery & Fabric Restoration Methods
Dalworth Restoration uses contents cleaning and drying restoration methods, including dry cleaning or steam cleaning methods to restore fabric, draperies and upholstered furniture from water damage, smoke damage and fire damage. After the cleaning process is complete, furniture is then ozonated to remove smoke odors, mold and other pathogens. Ozonation is an effective method of treating upholstered furniture and other fabric and contents to remove, smoke, odors and pathogens after fire, smoke, water and mold damage occurs.
While many items are able to be salvaged or cleaned and restored, some items that have sustained great water, smoke or fire damge are unsalvageable and must be replaced. In either case, Dalworth Restoration will assist you with your contents damage claim to restore or replace your belongings.
Salvageable Furniture Damage
Our climate-controlled contents facility is state-of-the-art complete with the highest quality equipment. Our certified and licensed contents technicians have the ability to assess all kinds of contents damage, and can salvage furniture from the following types of damage:
Unsalvageable Furniture Damage
It is critically important to contact Dalworth Restoration, the expert water damage and fire damage restoration company, immediately after the damage occurs to prevent permanent damage to your contents and to increase the chances of the contents being restored to pre-loss condition. Every residential or commercial contents damage situation is different, however, when you contact the contents restoration professionals at Dalworth Restoration we will help you determine which items can be restored. Even if you think some of the items can't be saved, we can often restore them. Call us at 817-203-2944 to schedule a on-site inspection, estimate and furniture assessment.
Furniture in many cases is considered unsalvageable and can't be restored when:
Exposed to water for an extended period of time 
Extensive mold and deterioration
Exposed to contaminated substances and water
Contact us today if you live in Dallas, Fort Worth, Arlington, or any other city in our North Texas service area. We'll help you file your contents insurance claim and start the contents restoration process now. Dalworth Restoration will provide a inspection of your residential or commercial property to determine the extent of your contents damage and property damage, and we will provide you with a estimate before we begin any work.