DFW's Trusted Leader in Restoration and Clean-Up, Since 1976
24/7 Emergency Services
Over 68,150+
Successful Restoration
Projects Complete
24/7 Emergency Services
Free Estimates
Work Directly with All Insurance Companies
Bonded & Insured
Removal of Floor Stains from Water Damaged Carpet in DFW
Your floor at home or office is subject to get stains, especially if it comes into contact with water. When your floors are wet, your carpet can easily soak water and continuous carpet water damage can cause stains on your floor and make it ugly.
Stains on the floor can make a negative first impression on visitors and ruin the appearance of your home or office interior. For the removal of floor stains from water-damaged carpets, you need a proper water-damage restoration service. We at Dalworth Restoration have the necessary expertise and tools to handle your situation. Our restoration service can help you with the removal of stains from your floor.
When you need water damage restoration services, reach out to Dalworth Restoration in Dallas, Plano, Frisco, Grapevine, or other areas of North Texas. Our team is available at 817-203-2944 for any kind of inquiries.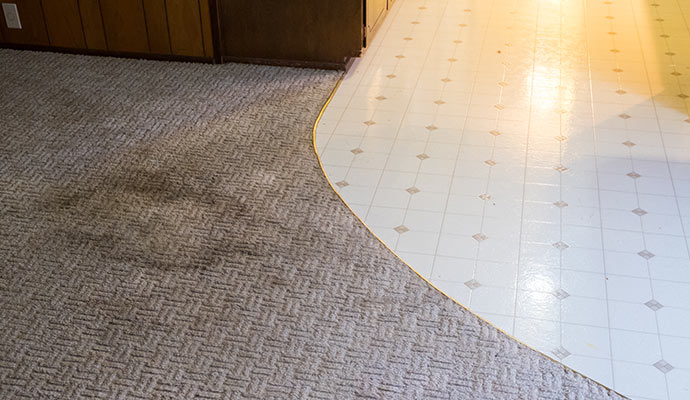 Why Should You Choose Our Floor Water Damage Restoration Services?
When water damage occurs on a carpet, it can leave behind unsightly stains on the floor that are difficult to remove. Floor water damage restoration is crucial for removing water-damaged carpet stains as it prevents the growth of mold and mildew, which can pose health risks and further damage the flooring. Timely restoration also helps restore the aesthetics of the space, ensuring a clean and visually appealing environment. Therefore we believe that floor water damage restoration is an essential step in removing the stain that has been caused by water-damaged carpets.
Contact Dalworth Restoration for Water Damaged Carpet Stain Removal in Dallas-Fort Worth
When carpets become wet, either due to flooding or water damage from a leak, you must ask for professional assistance to save your floor from strain. You should not neglect the stains on your floor as they can pose health risks as well as affect the quality of both your carpet and floor. A professional restoration company like Dalworth Restoration can save you in this situation.
We at Dalworth Restoration have nearly 50 years of professional expertise in water damage restoration. You can get our service in Fort Worth, Arlington, Southlake, or surrounding cities in North Texas. Contact us at 817-203-2944 to get our assistance.