DFW's Trusted Leader in Restoration and Clean-Up, Since 1976
24/7 Emergency Services
DFW's Trusted Leader in Restoration and Clean-Up, Since 1976
Over 62,000+
Successful Restoration
Projects Complete
24/7 Emergency Services
Free Estimates
Work Directly with All Insurance Companies
Bounded & Insured
Hail Damaged Roof, Siding, & Window Repair in Dallas-Fort Worth
In Texas, hail damage is a common phenomenon. Overnight hail storms, hail with strong wind/rain, hailstones of sizes of baseball, or grapefruit are nothing unbelievable for Texans. So it shouldn't come as a surprise that Texas is one of the top states of the nation with the most hail damage insurance claims.
Hail damages your roof, shatters windows, floods indoor causing huge financial loss both for DFW homes and businesses. Dalworth Restoration can help you retrieve your property from hail damage while you deal with your emotional turmoil. We are a licensed and professional residential and commercial restoration and clean-up service provider (since 1976) in McKinney, Fort Worth, Arlington, Denton, Parker, Dallas, and other cities of Northern Texas.
So if you are in search of a trusted storm and flood restoration company then call us today at 817-203-2944 for a free estimate or inspection.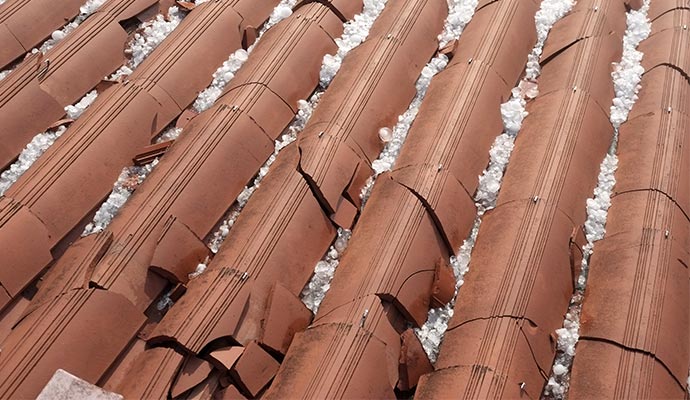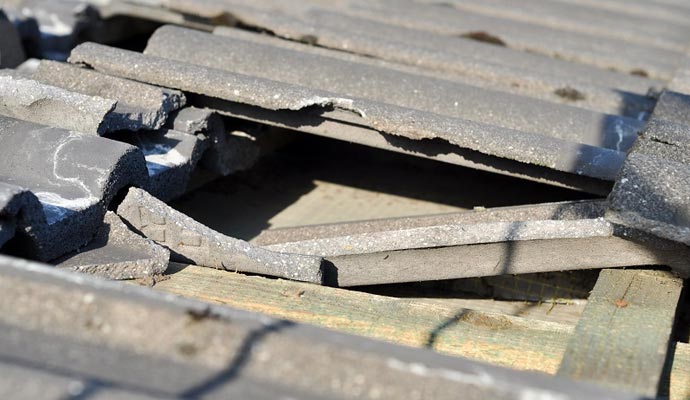 Damaged Roof Repairs at Home or Business
If any part of your property is most vulnerable to hail storm it is the roof. Hail damages roof in many ways:
Granule loss: When a shingle loses granules, its asphalt coating is exposed to the elements, and this leads to accelerated aging.
Cracks in the shingles: Cracked shingles cannot effectively protect your roof from the weather and can leave bare spots in it.
Exposed & fractured fiberglass mat: Hail can shatter the roof shingles' surfacing, causing it to break away from the fiberglass mat underneath. Fractured fiberglass mats can result in tears and cracks from a point of hail impact. This can be slightly harder to detect and usually requires a trained eye.
Weakened self-seal strip: Hails can weaken the seal integrity of your shingles which can cause a shingle to blow off and can leave your roof exposed to the elements. This can lead to roof leaks, and it can cause other shingles around it to tear.
At Dalworth Restoration our trained and certified technicians and crew members are well experienced to install, repair, replace all kinds of roofing impairments whether it is from hail, wind, or flood.
Hail Damaged Windows
Hail damaged windows can cause moisture and air infiltration through the cracks and dents in your window. This, at the very least, will create higher energy bills and, at worst, create an opportunity for the growth of mold and mildew inside the walls (learn more about mold solutions).
House Sidings
Dents, cracks, and holes in your siding are indicators of hail damage. Unlike damage to the roof, hail damage to siding may require immediate attention. The effect depends on the type of sliding being used.
Dalworth Restoration has solutions for all kinds of hail-damaged slidings: vinyl, wood, metal, etc.
Why Choose Dalworth Restoration For Your DFW Hail Damage Solution?
Licensed and Insured in the State of TexasNearly 40 Years of Water Damage Restoration Experience
Over 57,200 successful restoration project completion
Free estimates and inspection
24/7/365 emergency storm & flood restoration services
State-of-the-art, energy-saving equipment, and techniques
Member of the Better Business Bureau (BBB)
IICRC Clean Trust Certified Technician
ANSI/IICRC S500-Standard Water Damage Restoration Services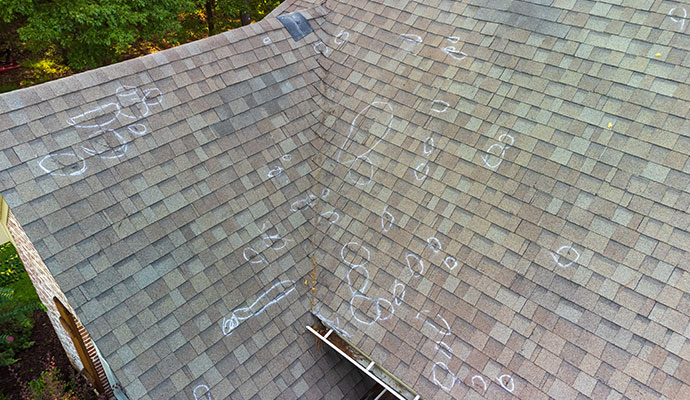 If you are worried about roof damage caused by hail, contact us today at 817-203-2944 or contact us online for additional information. Our roofing experts will be there in no time to get your roof looking as good as new in Hurst, Duncanville, Euless, Carrollton, Lewisville, and throughout our DFW service area.