DFW's Trusted Leader in Restoration and Clean-Up, Since 1976
24/7 Emergency Services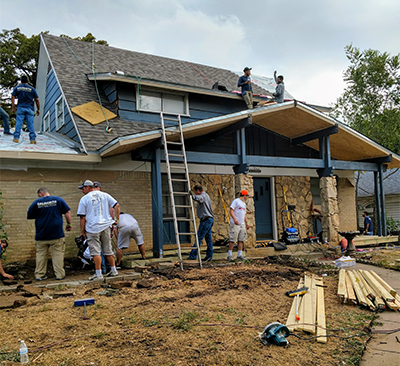 Dalworth Restoration Performs "CPR" on Local House
Giving Back
October is one of our favorite times of the year.  Not because of the cooler temperatures or for the State Fair (although both are high on the list) but for something even more amazing - CPR (Community Powered Revitalization).  CPR is a program where 6 Stones, a faith-based organization providing comprehensive services for the local community, revitalizes homes for local residents. There are numerous homeowners within the community who struggle to make necessary repairs to their homes due to financial, physical and other issues.  6 Stones, along with local businesses such as Dalworth Restoration, and volunteers throughout the community, join forces and bring these homes back to life.  As a result, the homeowners end up receiving an improved home with fewer struggles to endure.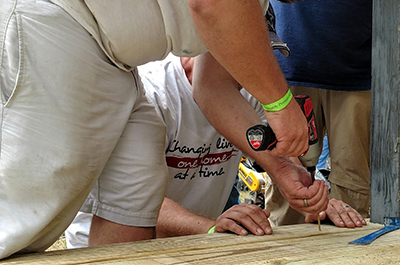 200 Homes and Counting!
This was our second year being a part of CPR.  The first year we worked on eight houses total, but this year we chose only to work on one.  However, this was no ordinary house; this was the 200th house that 6 Stones and the CPR program would be revitalizing.  Even the Mayor of Euless and members of the Euless Police Department came to visit.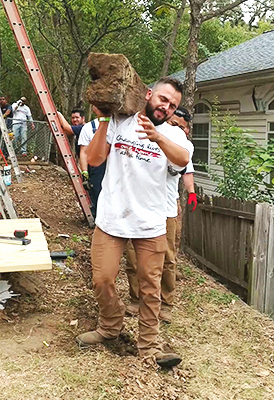 Lot's of Work to Do
This house, in comparison to the other houses chosen for the program, was one of the most in need of some TLC.  We had a crew of about 30 employees working on the house.  They were tearing off the roof, removing trees and shrubbery, and cleaning up the backyard - all within the first two hours!  But there was plenty more work to be done; a deck had to built, painting needed to be done, and the roof was yet to be completed.  It was heartwarming to see the determination and pride that every single person working on the house had.  Whether they were picking up leaves or installing new roof tiles, each task had a purpose; each person had a purpose.  And the sense of accomplishment that everyone felt when they left at the end of the day, was visible not only by the sweat dripping off their faces and their dirty clothes but by the smiles on their faces.   Before everyone left to go home, they had already committed to next year's CPR.  I have a feeling that Dalworth Restoration and their employees will be around as 6 Stones and CPR go into their 1000th home!
Dalworth Restoration
When fire, flood or storm damage occurs to your North Texas residential or commercial property, contact Dalworth Restoration—a restoration company you can trust to get the job done professionally and efficiently, to your expectations, satisfaction guaranteed.
Dalworth Restoration
12750 S. Pipeline Rd.
Euless, TX 76040