DFW's Trusted Leader in Restoration and Clean-Up, Since 1976
24/7 Emergency Services
What is a Flooding Emergency?
Over 68,150+
Successful Restoration
Projects Complete
24/7 Emergency Services
Free Estimates
Work Directly with All Insurance Companies
Bonded & Insured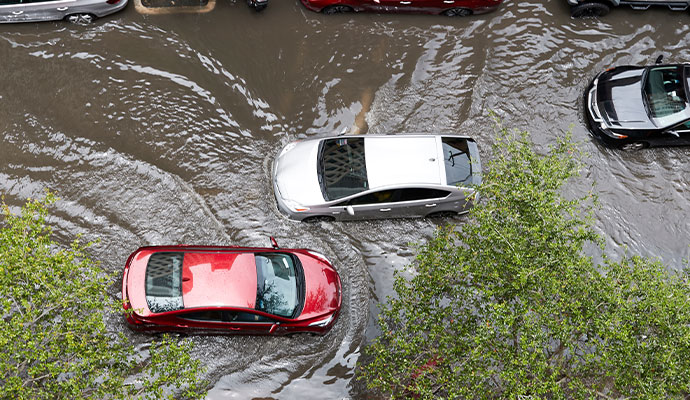 The term "flood" means to fill with abundance or excess, to overflow. The generally accepted definition of a flood is the overflow of water onto dry land. A flood can be devastating to people caught in the midst of this natural disaster and can be caused by heavy rainstorms, broken levees, tropical storms, hurricanes, and melting snow. Although most people think of floods strictly in terms of acts of God or forces of nature, any flooding in the home, whether due to mother nature, leaking pipes, overflowing toilets, burst water heaters, or dripping washing machines, can cause tremendous water damages and the need for water extraction and repair services.
Water Extraction in Dallas Fort Worth
Floods can occur anywhere, anytime in a home or business property. In fact, they are quite common and keep restoration companies very busy on a daily basis with water extraction services as well as cleanup and repair efforts. Soaking wet carpets, flooded basements and crawl spaces, soggy floorboards, and moldy furniture are all serious consequences of flooding in homes and require prompt attention. Moreover, water extraction services and complete drying of the premises must precede any repair and restoration work. Even minor, seemingly insignificant amount of standing water on any surface can cause water damage and needs to be extracted and dried properly.
Water Extraction Removes Flood Water
Any wood, paper, fabric, or metal substance in the home exposed to standing water will experience warping, decay, mold, rust, or some other form of water damage. The structural integrity of the property must not be compromised and water extraction and removal by pumping the water out is a very important step in the restoration process. Flood water extraction can involve any or all of the following: carpet water extraction, basement water extraction, crawl space water extraction, and sewage water extraction. Water extraction can take place using a combination of a high capacity sump pump and a wet/dry vacuum system.
Water Extraction and Removal
Water damage weakens and distorts walls, ceilings, floors and foundations. Water damaged household belongings, such as furniture, clothing, artwork, electronics, books, documents and other items become more severely damaged the longer they are left unattended and need to be removed to a restoration and storage facility until the cleanup and repair project is complete. For optimal results and mold prevention, water extraction and removal should optimally be done within the initial 24-48 hours of a flooding accident.
Water Extraction Services
Following water extraction services, thorough dehumidification and drying using a combination of fans, direct and indirect fired heaters, dehumidifiers, and air movers and blowers takes place. Only after water extraction, drying, dehumidification and debris removal, can repair and restorations efforts begin. The reason complete drying is so crucial to a successful restoration is that it makes no sense and is really counter productive to restore the property so it is visually appealing on the surface, if its substructure is rotting and decaying because moisture was not completely removed and dried out. As a result, mold is allowed to grow, creating unhealthy living conditions.