DFW's Trusted Leader in Restoration and Clean-Up, Since 1976
24/7 Emergency Services
June 2016: Contents Pros Save University

According to Nicole Kenny, who is the director of professional and technical services for a major manufacturer of cleaning and sanitizing compounds (with products in 60 countries), "Disinfecting a facility is expensive.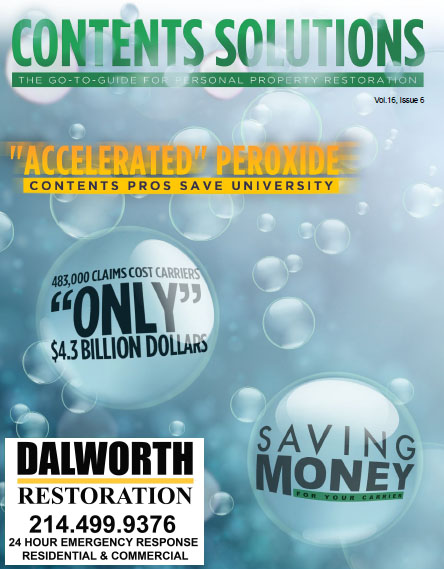 For the average 500-bed hospital, this totals somewhere between $3 million and $4 million annually… The cost of HAIs for a 500-bed hospital averages $19 million per year. Affordable Care Act penalties related to HAIs can result in an additional $5-plus million in costs for a poor-performing 500-bed hospital. A single norovirus case can cost up to $65,190… An outbreak that closes a ward can cost a hospital up to $1 million."
Which helps explain why, when an outbreak of norovirus on the campus of the University of Rochester climbed to nearly 150 students in two weeks, they called in the contents pros.
The contents team came up with a new solution that uses what they call, "accelerated hydrogen peroxide."
Why "accelerated?" Because the Canadian manufacturer who invented it, added surfactants (that allow the mixture to not only disinfect, but to clean as well), wetting agents and "chelating agents" that reduce the metals and/ or hardness of water. Thus it not only penetrates deeper and faster into hard and soft surfaces, it lasts longer once it is in place.
The main ingredient (peroxide) breaks down into water and oxygen, leaving only the cleansers (all of which are commonly found in regular maintenance cleaning compounds).
It has HMIS (Hazardous Materials Identification System) of 0-0-0, so no PPE (Personal Protection Equipment) is required, but it has a kill rate for Norovirus, blood borne pathogens, MRSA and VRE of about a minute. This means that the students will not be exposed to harmful chemicals and VOCs, but will enjoy an immediate remediation of the contaminants.
All this writing, the number of students at the university who were infected (the college administrators believe that the number of reported cases is just a fraction of those actually affected by the virus), has fallen from as many as 20 a day to just 2.
The contents pros also distributed boxes of peroxide saturated hand wipes to cafeterias, dorms and other places that the students gathered – it worked.
One professor recalls being surprised when the contents pros arrived in the library. He was using a laptop computer and they asked if they could sanitize it with peroxide wipes. After seeing the effects of the Norovirus, he was very supportive of the idea!
And there has been no damage to hard or soft surfaces from the "secret sauce" being used in the cleanup process.
According to one source, many of the so called "disinfectants" on the market are ineffective for Norovirus. The virus itself can remain in the environment for up to 4 weeks and is highly contagious.
The contents specialists have developed a new respect for their old friend peroxide – and new uses for a combination cleaner/disinfectant.
483,000 CLAIMS = $4.3 BILLION
Xactware, the industry's leading claims estimating software company, recently released its annual property report, highlighting the most common contents claims. Not too surprisingly, the top 5 common line items were, clothing and accessories; housewares/home décor; tools; furniture – home and office; and electronics (computers, big screen TVs, ect.) All these are items that the contents professionals clean and restore all year long.
You may recall the article in Contents Solutions in which just one company restored an estimated $4 million worth of electronics after a fire in a local university. And we have repeated the story about the adjuster who was about to total loss boxes of figurines that were restored by a contractor and his crew (cash out would have been $35,000).
It has been a while since we shared the account of the contents pro who saved the insurance carriers who hired him at least $200,000 in a year by restoring instead of replacing.
The truth is that the contents front line teams are saving astronomical sums all year long on virtually every job, with their special knowledge, training and protocols. But there simply aren't enough of them to put a significant dent in the 483,000 claims that were processed in 2015 at a total value of more than $4.3 billion. They can only do it for the adjuster who calls them first. That is why adjusters and agents value the contents pros so highly.
CONTENTS TEAMS
PLANNING FOR SUCCESS
Have you ever wondered why it is that the contents restoration teams are so good at what they do?
If you are an adjuster, you know they save massive sums for your company on virtually every job.
If you are an agent, you have probably already held a conversation with their boss as to how they can help you get your policies renewed (after all, they do it for everybody else - why not you?)
Of course we have policies in place to help the adjuster look good to his (her) boss and to help agents get their policies renewed, but we also are meticulous in who we hire and how we train them for the day to day regimen.
Each manager and technician is shown how to act as a leader in difficult situations. If for some reason the contents manager can't fulfill his or her duties, the second in command takes over and uses the protocols that are part of our daily regien to fulfill the job requirements.
We have enough pro-active systems that most adjusters find they can ignore us - and that is the highest praise of all.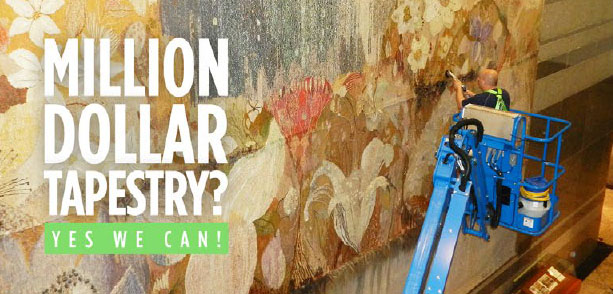 Contents pros with a specialty in cleaning antique and fragile rugs were just faced with a monumental challenge. Artist Tamara Jaworska had created a woven work of art that had hung next to tapestries inspired by the canvases of masters such as Dali, Picasso and Chagall, who permitted some of their artwork to be re-created on the looms of extraordinary craftsmen of the day.
Ms. Jaworska had received the Queen Elizabeth II Golden Jubilee medal for her masterpieces, along with numerous other awards and accolades.
And when it came time to create her art, she wove the tapestry with methods that were hundreds of years old. But perhaps she should be most noted for the fact that she didn't seem to know when to stop! She toiled for 10 to 12 hours a day, six or seven days a week.
When she finally presented her work, it was about 22 feet by 33 feet in size, and was made of "Irish linen, hand-spun wool, commercial wool, horse hair, silver thread, Lurex (metallic yarns) and feathers," along with, "...real pieces of dried grass."
In an interview with Cleanfax Magazine, the head of the team reported, "The grass began to turn to mush when exposed to water so low moisture cleaning was important. There were many areas highlighted with feathers. The feathers were simply pushed into the yarns and would remove easily, so extra care had to be used in those areas so as not to lose any.
The tapestry was valued at $1,000,000 so orbital scrubbers and other machines of similar nature, were out. This job was very labor intensive, the front like workers had to perform their painstaking efforts onsite and definitely by hand.
Still the team finished in just 2 days.
If ever you wonder whether a contents team can take good care of your client's area rugs, yes they can! And if they need a specialty team, all they have to do is to take a look in their million dollar data base for someone who has a million dollar track record.
Jeff Cross Chief Editor of Cleanfax Magazine asked his readers, "If the phone rang today and you were offered a job cleaning a million-dollar tapestry by a famed artist would you accept?
The contents pros always say "Yes."
Hire a Contents Contractor Today !
We have seen it - and we are sure you have too.. A contents restoration team has just cleaned and restored a leather couch. It was valued at around $3000 (high end couches are selling for as much as $5000).
Then, They cleaned an Armani suit ($1500 value) got the smoke odors out and handed it back in pre-loss condition. And, they restored one Coco Chanel purse that had been sprayed by hoses during a fire, covered in mud, frozen and left in a twisted lump on the floor (professionally valued at about $5000 - you may recall the article in a past edition of Contents Solutions). It cost about $1000 to restore the couch, $20 to restore the suite and $79.99 to restore the purse (the owner was ecstatic). So for about $1100 you saved at least $5000 (no matter how devaluated the items may have been).
Contents pros don't cost you money, they make you extravagant sums on most jobs - they just haven't been bragging about it. We'll leave that up to you!