DFW's Trusted Leader in Restoration and Clean-Up, Since 1976
24/7 Emergency Services
CPR - Community Powered Revitalization - Fall 2016

Dalworth Restoration, 6 Stones & Others Helping the Community
---
Twice a year, 6 Stones coordinates with a league of volunteers to provide the necessary repairs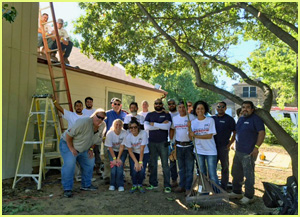 needed for homes in Dallas/Fort Worth and the North Texas Communities. In October of 2016, 48 Homes were repaired in this Blitz Thanks to 6 Stones and all the volunteer efforts.
CPR – Community Powered Revitalization
Community Powered Revitalization works as a team of businesses, churches, municipalities, and community volunteers to help make necessary home repairs to houses in our community where the homeowner(s) are struggling and cannot make the much needed repairs on their own.
Dalworth was blessed with the ability to work with others in the community to put hope back into the hearts of others that were unable to make repairs on their own. Upon arrival one of the homes, we were able to replace fencing, rotted wood and siding on the home, and created a beautiful garden in the backyard. Employees from each department worked together to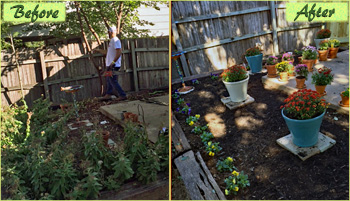 ensure the repairs and improvements were completed with care, quality and efficiency.
Accounting, Marketing... even the General Manager got after it!
Dalworth employees volunteered their time and skill to work from 9:00am to 5:00pm on Friday October 21 st to make all the necessary repairs. Working alongside each other to meet this homeowners needs was beyond humbling and an experience we will never forget. We will always remember the look of gratitude and appreciation on the homeowners face when the repairs and improvements were complete.
---
A Special Thank You to 6 Stones for sharing their video of the Community Powered Revitalation Project!
For more information on how to get involved in helping
Dallas/Fort Worth communities who are in desperate need of a helping hand, please visit 6 Stone's website at www.6stones.org and Dalworth Restoration's website at www.dalworthrestoration.com for continual updates.
---