DFW's Trusted Leader in Restoration and Clean-Up, Since 1976
24/7 Emergency Services
North Dallas Chamber of Commerce Nominates Dalworth Restoration for Business of the Year 2017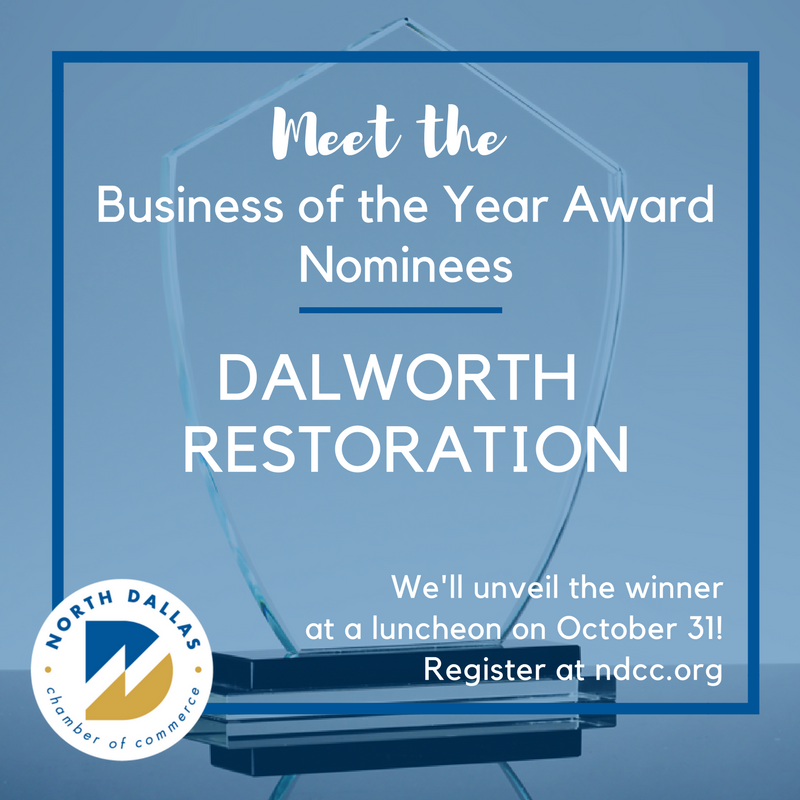 When our CEO, Shane Hobbs, received the news that the North Dallas Chamber of Commerce had nominated Dalworth Restoration for Business of the Year 2017, he wasmodestly "surprised and honored" by the acknowledgement.  According to the Chamber's website, the award is given each year to a business "that offers high-quality products or services, demonstrates strong ethical standards, exhibits leadership with its employees and clients and within its industry and is active in the community".
It is the "community" aspect which truly resonates with Mr. Hobbs.  Dalworth Restoration takes great pride in serving the community.  Whether it be volunteer work, planned community events or random acts of kindness, such as repainting a retaining wall for the city of Arlington, community is an integral part of the company's culture.  "Giving back to the community is so important to us.  And we just do it.  We don't ever expect anything in return."
The winner was announced on October 31, 2017 and we learned that we were not the recipients of the award.  Nevertheless, we were honored to be nominated and very thankful for the North Dallas Chamber of Commerce's support and ability to allow us to connect with other amazing business throughout Dallas.  There's always next year!
Dalworth Restoration
When fire, flood or storm damage occurs to your North Texas residential or commercial property, contact Dalworth Restoration—a restoration company you can trust to get the job done professionally and efficiently, to your expectations, satisfaction guaranteed.
Dalworth Restoration
12750 S. Pipeline Rd.
Euless, TX 76040