DFW's Trusted Leader in Restoration and Clean-Up, Since 1976
24/7 Emergency Services
Over 68,150+
Successful Restoration
Projects Complete
24/7 Emergency Services
Free Estimates
Work Directly with All Insurance Companies
Bonded & Insured
Emergency Toilet and Sewage Overflow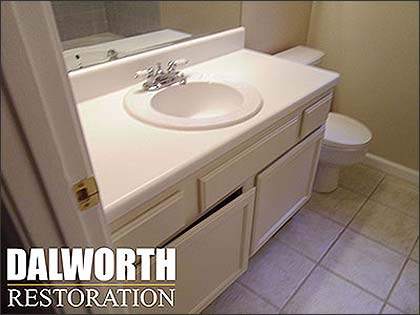 When your toilet is on the verge of overflowing, you can prevent toilet flooding and sewage gushing out onto the bathroom floor with the following steps:
Wear old clothes, rubber gloves and rubber boots or old closed toe shoes you can discard in case toilet water splashes on you.
Remove the toilet lid from the tank and gently place it on toilet bowl or floor. The lid is breakable so be careful not to slam it down on the floor.
If you have time, place newspapers on the floor around toilet to catch any sewage splatters.
To prevent water from going into the toilet bowl and thus preventing sewage overflow onto the bathroom floor, press down the rubber flapper valve, located in the middle bottom area of the tank. This valve allows the toilet tank to release water into the toilet bowl.
Continue to hold the toilet tank float up as the water keeps descending to its regular level.
At this point, you can release the toilet tank float and you will see that the toilet bowl refills normally without any water or sewage overflows onto the bathroom floor.
If the water in the toilet tank does not descend, shut off the toilet water supply valve behind the toilet, while still holding the toilet tank float.
Do not force the toilet supply valve as it could break and cause a water leak in addition to your toilet blockage.
In case you cannot shut off the toilet supply valve, take off the small cylinder that gets water to the toilet bowl and point it into the toilet tank instead. This should be easy since the cylinder is flexible plastic or rubber.
Release the toilet tank float and watch the tank fill with water. Once the toilet tank is full, you can release the cylinder back into its regular position.
Find out if there is a clogged house drain that could cause toilet flooding.
Do not use any water outlets in the house, such as toilets, showers, baths, kitchen sinks, etc.
Check all bathrooms in the house starting with lower level toilets and bathrooms and moving to upper level bathrooms. As you check the upper level toilets and bathrooms, make sure there is another person on the lower level to give feedback on drain backups.
Use a toilet plunger to attempt clearing a blocked drain. If sewage rises in a bathtub drain, close the drain and continue to use the toilet plunger.
In case there is just a single clogged toilet, use the other toilets and avoid using the clogged one until you call a plumber.
In case there are multiple toilet backups, there may be a blockage at the main drain (if your home is connected to municipal sewer) or flooded septic system (check to see that all components in system are on and working), in which case, try to use water sparingly until problem is resolved.
Call a plumber or water damage restoration service company to fix the backup problem.
If toilet overflow is unavoidable and you are faced with a water and sewage damage cleanup scenario, the following step-by-step information may be useful.
Open bathroom windows to air out the affected space as well as remove moisture and humidity.
Try to contain toilet flood water to the bathroom area and make sure it does not escape to other rooms in the house. One way to prevent such potential flow is by setting rags and towels at bathroom entrance.
Remove portable items from bathroom floor, such as plants, vases, rugs, hamper, linen cabinet, etc. Put these items on old linens that can be washed or discarded, depending on whether or not toilet overflow contains sewage water. You can attend to these items later, after you thoroughly dry and disinfect the bathroom.
Keep in mind that porous items that remain wet 48 hours or more following a toilet overflow should be discarded due to potential mold concerns. Belongings that come in contact with raw sewage should probably be discarded as well. You may want to contact a content restoration company to get information about salvaging wet or contaminated possessions.
For toilet overflows of over a couple of inches, a wet-dry vacuum would efficiently remove most of the toilet flood. Hardware stores usually offer wet-dry vacuums for rent, so you may want to call and check on availability.
Once you remove most of the water with the wet-dry vacuum, additional moisture should be absorbed with a towel, sponge or rag. Check for wet spots in nooks and crannies and remove as much water as you can so mold does not develop.
The next step is to clean and disinfect the bathroom floor with 1:10 dilution ratio of bleach to water. This job needs to be thorough, to prevent bacterial or mold contamination in various bathroom crevices.
For optimal air circulation, place portable fans around the bathroom and leave them to operate for one to two days. Afterwards, remove the fans and place a dehumidifier in the bathroom to remove all remaining moisture and humidity.
If the flooded toilet emergency is severe or has been unattended to for several hours, you may want to contact a water damage restoration company for flood cleanup assistance. Blocked toilets causing leaks and overflows are pretty common. Restoration companies have vast expertise at removing water damage and cleaning and disinfecting the premises effectively so the area is safe and clean again for you and your family.