DFW's Trusted Leader in Restoration and Clean-Up, Since 1976
24/7 Emergency Services
What is Water Damage Repair?
Over 68,150+
Successful Restoration
Projects Complete
24/7 Emergency Services
Free Estimates
Work Directly with All Insurance Companies
Bonded & Insured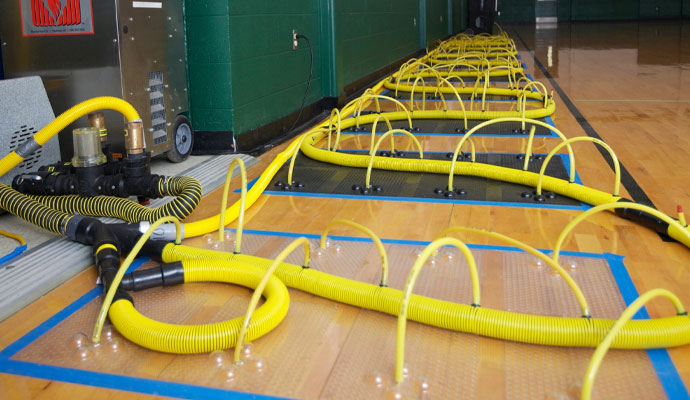 Water damage is a broad term, inclusive of numerous losses by invading and unwanted water, causing destruction of materials such as wood, metal, fabric, plywood and sheetrock and promoting rot, decay, rust and mold scenarios. In the home, water damage to floors, carpets, furniture and appliances can be significant, requiring professional water damage repair and restoration costing thousands of dollars. In fact, water damage is a major contributor to property loss, potentially threatening the structural integrity of your property. Water damage repair companies in Dallas Fort Worth are kept busy with numerous restoration projects throughout the metroplex. In flooding situations, water damage repair and restoration companies seek to eliminate the source of the unwanted water, dry the affected area as well as repair and restore the water damaged property to the original, pre-damage condition. The following is a list of suggestions to monitor and minimize the potential for leaks, spills and floods and the resulting need for water damage repair services.
Regular Appliance Maintenance Prevents Water Damage Repair
Any appliances such as washing machines, dishwashers, water heaters or any others utilizing water, should be examined on an annual basis. If left unchecked, a slow leak or drip could eventually lead to a much bigger problem, potentially leading to mold infestation or flooding, causing destruction and water damages in your Dallas Fort Worth home.
Heating and A/C Care
Make sure your A/C and heater unit is serviced annually. Check the drip pan to make sure it is not cracked and leaking. Change the filters monthly and rinse the unit a couple of times per year to keep it clean and free of debris. If not properly maintained, major water damage is likely, causing expensive water damage repair to your Dallas Fort Worth home.
Attic, Basement and Crawl Space Insulation
Fiberglass is often used as additional insulation in basements, crawl spaces and attics. However, in case of flooding in your Dallas-Fort Worth crawlspace or basement, fiberglass would absorb the water and trap moisture in your walls. Consider other insulation options in areas that are susceptible to flooding and water damage, such as crawl spaces, basements and attics.
Rainy Season Water Damage Repair
The rainy season brings with it water damage repair projects to the Dallas Fort Worth area. Weather related water damage is responsible for leaky roofs, flooded crawl spaces, basements and frozen and burst pipes inside as well as outside your Dallas Fort Worth home. Rain, melted snow and ice coming into your home will cause water damage and the need for water damage restoration and repair. Some water damages may not be discovered for days or weeks because they may be minimal and not visible in the early stages. However, when the extent of water damage and property destruction becomes apparent, it may require a more extensive repair and water damage restoration to fix the problem and repair it to pre-water damage condition. Prevent water damage by making sure your chimney, roof, gutters, external and internal plumbing and crawl space are in top condition. Replace or repair roof shingles that allow water in. Inspect flashing around chimney, doors and windows. Fix and calk cracks around doors and windows. Seal cracks in exterior walls, joints and foundation. Replace drippy pipes.
Obstructed Gutters
Check your gutters at least a couple of times annually to make sure they are clean and unobstructed by debris and falling leaves. Clean gutters enable rainwater to flow away from your Dallas Fort Worth home and foundation. Clogged gutters can be the source of major water damage during the rainy season, destroying roof shingles with rain puddles accumulating on the roof and causing leaks, contributing to cracks in the walls and foundation over time, causing mold on wood siding and damaging sidewalks.