DFW's Trusted Leader in Restoration and Clean-Up, Since 1976
24/7 Emergency Services
Toilet Overflow Causing Water Damage to Business in Fort Worth, TX
Customer: Berry Good Buys
Dwelling: Business
Location: Fort Worth, TX
Service Provided: Pro Bono Emergency Service, Water Extraction and Drying Structure
Berry Good Buys in Fort Worth TX, a local non profit business with proceeds benefiting domestic violence victims, found themselves in need. When employees opened up the shop for business on a Friday morning, they discovered that a toilet had overflowed and water had been running all night.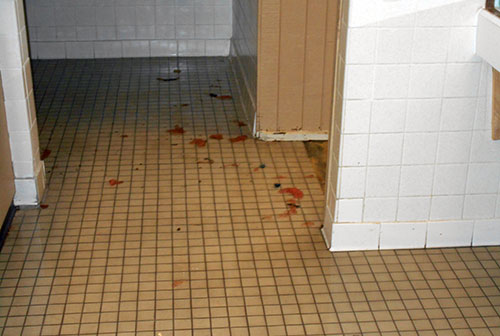 The split level establishment had water standing in the downstairs part of building; it was even seeping out of the windows. Dana, the manager of Berrry Good Buys, was off that day. The employees called her for guidance. She immediately called Dalworth Restoration. When I asked Dana what led her to call us, she answered, "Isn't that the first one everyone thinks of?" Dana spoke with Josh Hobbs, our Production Manager with Dalworth Restoration. While they spoke, Dana inquired about the price. Josh advised her that we were sending Julio, one of our Certified Crew Members to respond to the emergency and there would be no charge for the job.
Julio arrived onsite early afternoon on the same Friday that Dana had called Dalworth. Julio first performed an assessment of the water damage before extracting the water from the lower part of the building. He cleaned the area to provide a safe enviroment from the toilet overflow. Julio set up fans and dehumidifiers, then removed the baseboards to help dry the walls in order to prevent mold from occurring. The fans and dehumidifiers were left all weekend, while Julio checked daily for the level of moisture. Dana recalls Julio coming out on Monday afternoon to check the status and then on Tuesday the job was complete. Dana reported that Julio was highly professional and did a great job. 
On Tuesday, after Julio had picked up all the equipment, Dana called Josh to ask about payment. Josh reminded Dana that there was no charge for the job. Berry Good Buys provides a great service for the community, and Dalworth Restoration wanted to help by giving back to the community. Dana was overwhelmed with gratitude. She was enthusiastic and pleased with a job well done. Dana even advised the corporate office of Berry Good Buys, Save Haven - Freedom From Domestic Violence. Safe Haven took the time to send an appreciation letter to Dalworth Restoration, providing great praise for our service.
Dana advised that she would definitely recommend Dalworth Restoration to other businesses and individuals. If you have a water emergency, we are here 24/7 to receive your call and respond. Give us a call at 817-203-2944 or fill out our contact form online.