DFW's Trusted Leader in Restoration and Clean-Up, Since 1976
24/7 Emergency Services
Hospital Case Study - with Steramist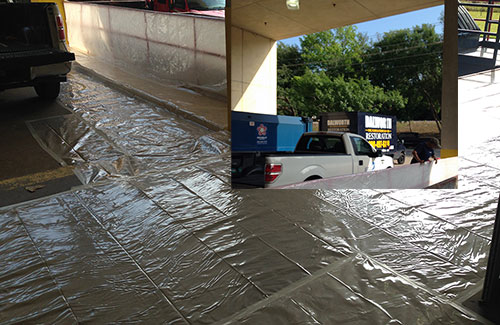 Case Study: Hospital
Location: Dallas, TX
Project: Cleaning & Disinfection
Dalworth Restoration received a lead through an industrial hygienist for an important case involving a hospital. Any time Dalworth assumes responsibility for a hospital or clinic setting for restoration, additional considerations of safety for patients and staff come into play. Maintaining a safe and sanitary environment is crucial for all involved. Transmission of disease or exposure to toxic substances can prove lethal to frail patients in a hospital or clinical setting. Dalworth focuses on maintaining the highest standards in order to keep everyone safe while performing the most successful restoration project possible. This particular case involved a hospital in which there was a water line break in one of the examine rooms leading to flooding. Dalworth removed the dry wall and discovered historic mold growth against the stairwell that needed to be remedied. An industrial hygienist was brought in to write a thorough protocol for mold remediation for 7 stories of the building and the entire stairwell.
Dalworth began the remediation process. Hard containments were built to put the stairwell under negative pressure (to avoid contaminating other areas). The stairwell was on lock down for full quality control. Both the regular elevator and the freight elevator were shut down during the process for complete safety. Whole remediation clean-up occurred that involved dry wall and insulation being removed. Dalworth cleaned and disinfected all framing. All surfaces were encapsulated with mold resistant coating to prevent microbial growth. Comprehensive SteraMist procedures were implemented with a hand-held unit. Upon completion of the process, test results from the industrial hygienist came back with flying colors, with the hospital environment proving to be clean and sanitary. Contact Dalworth Restoration today!
The SteraMist™ Environmental System disinfects surfaces 2 to 3 times faster than similar products and is scalable to treat multiple surfaces simultaneously. Depending on room size and configuration, the entire process lasts around 75 minutes, as compared to Activated Hydrogen Peroxide (aHP) at 2 to 3 hours, Hydrogen Peroxide Vapor (HPV) at a minimum of 5 hours, or Vaporized Hydrogen Peroxide (VHP), which can take a minimum of over 6 hours before re-entry.