DFW's Trusted Leader in Restoration and Clean-Up, Since 1976
24/7 Emergency Services

Dear Agents and Adjusters,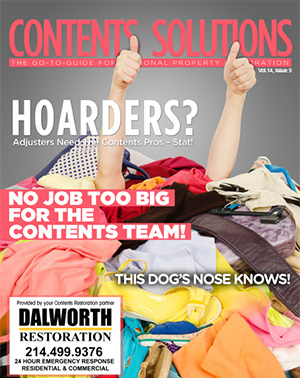 Whether you're an insurance agent or a restoration adjuster, you're sure to find exciting, cutting edge and much-needed information in our new monthly Contents Solutions newsletter. We're bringing you dynamic information on how contents crews use pioneering tactics to handle any job given to them, no matter how big the issue may be. 
We're also thrilled to provide you crucial information on the following relevant topics: how to deal effectively with restoration jobs where "hoarding" is involved; and how tough situations like hoarding are best left to contents restoration professionals with a specialty in restoring contents rather than discarding contents. You will also learn about the important new hoarding house safety protocol. Additionally, you will learn about the specially trained dogs who are sniffing out evidence of bed bugs (and they're very good at this). 
Click on this link to the September edition of Contents Solutions to discover the latest secrets from contents pros, including how contents pros provide powerful solutions to reducing the impact of volatile chemicals where respiratory problems may be an issue. You will also learn how placing matting down before beginning a job will save lots of money and reduce soil and debris in the process!
We're sure that you know others who will also be interested in receiving Contents Solutions. They can sign up for the newsletter at our site.
Thanks for your time.
Sincerely,

Shane Hobbs