DFW's Trusted Leader in Restoration and Clean-Up, Since 1976
24/7 Emergency Services
May 2015: Best Restoration Job Ever!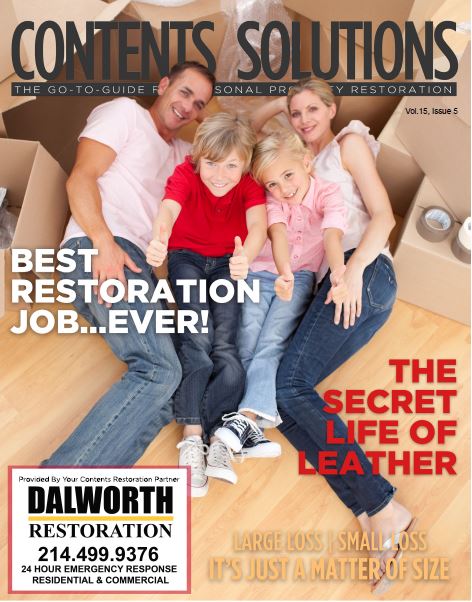 When the contents pros get stellar testimonials and accolades (like, "Best Restoration Company Ever!" and You folks rock!") from business owners, homeowners, building managers, adjusters and agents, they know it is because they have a tremendous advantage over structural restoration companies and firms that don't have contents specialists.
After all, the structural companies restore walls ceilings and floors – but the contents pros restore items that are much closer to the hearts of the owners.
But there are other reasons that the contents companies are so highly prized by the insurance adjusters and agents as well.

You may recall in an earlier edition we mentioned that one adjuster was prepared to "total loss" a smokecoated figurine collection, but was convinced by a project manager to allow his team to clean them instead. The collection had been previously valued at over $30,000 but now looked like an expensive loss.
The contents specialists used unique cleaning methods and restored every item to pre-loss condition – saving the insurance company a significant sum!
Agents are very concerned that their clients are happy with the job the restorers perform because it reflects strongly on whether the insured will want to renew their policies. But they rest easy when they know a trained team of contents pros are on the job because it means the insured will have nothing but praise for the agent and the team that works with him (her).
And it seems that the contents restoration professionals are always at the cutting edge of the field. They have cleaned and restored everything from furniture to antiques, and from clothing to crystal. Some insurance carriers are impressed when millions of dollars are saved by restoring a whole building full of electronics. Others find it much more impressive when books, documents (i.e. Deeds, wedding certificates, wills, death certificates, account ledgers, etc.) are dried and restored after a flood or fire.
Some are impressed when the contents pros reduce a large loss by "packing out" massive amounts of pharmaceuticals, x-rays and other medical paraphernalia after a sewage backup – creating a photo inventory, decontamination center and cleaning assembly line that salvages a great percentage of what might otherwise be lost.
Others are far more interested with the efficiency of the team on a single family dwelling – finishing the job quickly, well within the budget and getting that responsibility off the adjuster's desk.
Among the contents specialists' many talents is that of dealing with customers in a manner that gets policies renewed, makes things easier for adjusters and satisfies building managers, hospital administrators, county officials, homeowners and others – so everyone gets the credit for "The best restoration job, ever!"
NOROVIRUS - BY LAND AND SEA
Have you ever wondered why it is that when a Norovirus breakout happens on a cruise ship, so many passengers get sick? The answer is: It happens the same way that a Norovirus breakout happens in grade school classrooms and high rise office buildings.
The Norovirus is a tough, long-lived bug that is spread by hands, by sneezes (a single sneeze alone can release 40,000 droplets, which can travel through the air and land on a variety of surfaces), by touching an infected computer keyboard, doorknob or elevator button. Some pathogens can survive on surfaces for days—even months—making the environment a risk in the transmission of cold, flu, and many other illnesses.
Usually public facilities look to the custodians for a solution, but when things get serious (remember the contents pros and the Ebola scare in Texas?) they send for contents specialists. The pros have everything from dry vapor, to ultraviolet light, to EPA approved germicides and virucides. But their favorites still lie with the solutions that allow the workers or the students to remain at their desks – unharmed and unaffected by the bacteria-killing sprays.
No loss of school days, no loss of workdays.
LARGE LOSS | SMALL LOSS
JUST A MATTER OF SQUARE FEET
Sometimes contents pros are mistakenly thought of as "small loss" experts. But quite often, they handle larger facilities as well.
For example, a high school, with 148,005 square feet had experienced a "puffback" from the furnace.
A puffback happens when heating oil and carbon seep into areas of the furnace through leaky valves or other means – then, one day, it explodes sending soot and ash all over the immediate environment, then through heating ducts into the rest of a building.
In this case it was most of the school. The cafeteria, the auditorium, the music room, classrooms, photocopy room, computer room, the library, the teacher's lounge, the Guidance office, the Health office, the soot and smoke wafted forward.
Some walls and individual items were cleaned with soot sponges. Others were treated with an alkaline solution – washing, rinsing, drying.
All the lockers were opened and cleaned. All the carpets were vacuumed – they only had 6 days to cover almost 150,000 square feet!
With just the most basic of machines and processes, the contents pros came through. The school looked and smelled clean and fresh on the morning of the sixth day. So, yes, the contents processes work on large loss as well as single family homes. They do what they always do – adapt, create and proceed!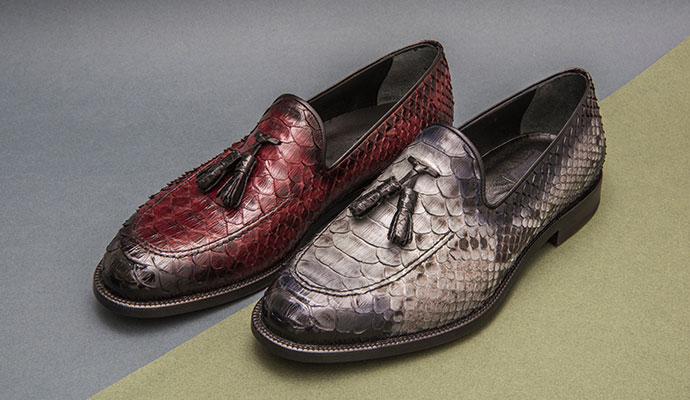 After a fire, many restoration companies will often turn to thermal deodorization and ozone generators to remediate the smoke smells. Neither of these are appropriate for leather items. Thermal deodorization uses high temperatures that will "age" the leather and increase its brittleness.
Ozone deteriorates leather and can change the color of dyes and inks. Museums and art collectors flatly refuse to allow either of those methods to deodorize their leather items.
You may have heard that there is a process in which leather can be restored by washing the items (such as shoes) in cold water, ozone and a special detergent mixture. This removes the smoke odors, it cleans off dirt and debris and the special mixture actually puts synthetic oils and moisture back into the leather.
Beginners or untrained personnel may know about the process, but their downfall comes when they select a cleaning solution that strips away the oils from the leather – thus damaging it further.
One author, Mike Rusciolelli, recently offered an article in the trade publication, "Restoration and Remediation Magazine" in which he shared the story of an adjuster who was prepared to "total loss" 21 pairs of custom made cowboy boots, "… that carried an estimated price tag of $1,000 per pair."
He explained, "The adjuster determined that losses from fire and smoke were such that there would be no point in the soft goods restorer even bothering investigating the damaged boots.
"The restorer decided to attempt restoration anyway and, instead of replacing the hand-made footwear, the boots were restored to the policyholder's complete satisfaction at a cost of $19.31 per pair. What would have cost over $20,000 to replace was restored for just over $400."
Insurance adjusters simply cannot be expected to know everything about every item encountered on a given assignment – that is why trained contents pros are so highly valued. Any time they can save the carrier $20,000 on a single job, it is a banner day. Because they know that the adjuster will be looking forward to having them participate in the next project!
Contents professionals save the insurance companies for which they work, significant sums on virtually every job – and sometimes the amounts they save surprise even them!
A SENCE OF CONTROL
Over the years we have noticed that clients seem to like watching the contents pros in action. Their positive, upbeat nature, their assembly-line acumen, their low key but urgent sense of decorum tends to make the insured feel as if they are in good hands.
But sometimes the client wants to "help." He (she) seems to be trying to regain some sense of control – and that is why the savvy contents manager has a list of things for the intrusive owner to do (owners who try to help, often slow the process down).
Mrs. Smith, I have a very important task for you. Would you mind gathering all the most valuable items (like jewelry, your important documents box, coin collection, etc.) and put them on the master bed? We'll have a couple of boxes for you so you can pack them and take them with you to the hotel."