DFW's Trusted Leader in Restoration and Clean-Up, Since 1976
24/7 Emergency Services
January 2016: Contents Pros Bring Peace to Adjuster's Valley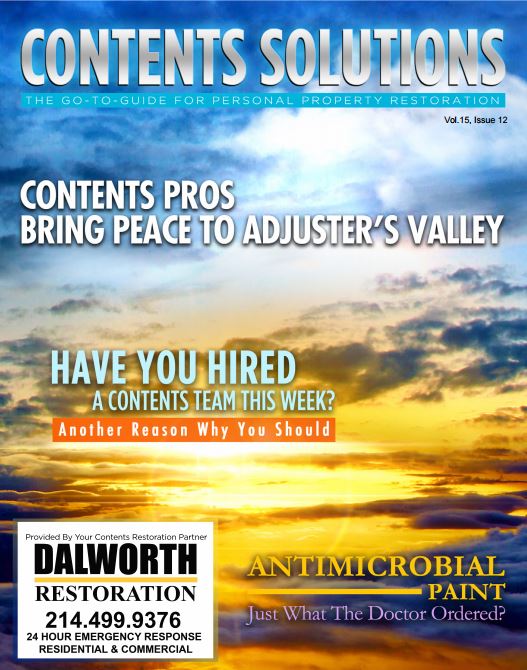 If you have had the good fortune to read Contents Solutions in the past, you may recall the story of the "The Case of the Lady with the "Demon Eyes." It was an article about an irate customer who said nothing, but seemed to "build up steam" until she exited the house, slamming the door for emphasis.
Steve Toburen, a consultant, author and seminar leader for restoration companies, calls the solution for this crisis, "Bringing peace to the adjuster's valley."
Interestingly enough, the lady came back, apologized and explained that seeing her carpet being torn up and the contents crew touch her stuff was "... just too much."
The contents manager was on the scene and fixed everything, but it occurred to us that sharing some of her tips might be of value to the adjusters and agents who read our columns as well.
First, we have to figure out what the customer is upset about – in "The Case of the Lady with the Demon Eyes" it was an "easy fix." She had simply misinterpreted the care and expertise of the workers. All she could see was the disastrous state of her home at the moment – not the dream home it was about to become.
But let's say that a homeowner had just been told that his policy didn't have enough coverage to clean and restore a game room downstairs (where the cellar used to be) fully. There is enough for a deodorization and surface cleaning, but his policy doesn't cover a complete restoration for an "add on" room. And he is "simmering just below a boil."
The adjuster is in for a very long and scathing argument. There will be telephone calls to his boss, angry inserts at various consumer websites (where people go before they purchase an insurance policy), letters to state regulatory agencies, etc.
A savvy contents manager, who has performed a walkthrough pre-estimate and pretty much knows where everything is and how much it is going to cost to restore, might approach the owner with a few alternatives.
"OLD SCHOOL"
REMEDY REBORN
We recently uncovered a "digital vault" in which we found quite a few articles written by contents company owners about 30 years ago. And when we showed them to Barb Jackson CR, a spokesperson for the contents restoration industry, she took a look at them to see what is different nowadays from when the words were first written.
There are quite a few things that I found to be insightful for the time. She said, "For example, there is a section that explains how water and smoke residue can mix, creating an acid that will pit and discolor chrome fixtures – leaving the adjuster with no choice by to replace them.
But, it is further explained that if the contents team gets to them in time, they can coat them with what the author called 'oil.' Today we have specialized coatings, but in a pinch we would use something that would last – we wouldn't use an unknown oil just because it was handy. We wouldn't anything too thin or that could evaporate enough for the acid to get to the chrome. Instead we would look for
petroleum jelly or
WD-40.
Such products are well known to
the contents pros as acceptable alternatives.
They use them to
protect most soft
metals until they
can clear the air
and clean up all
the soot in the
immediate area.
"Once the area is free from
contaminants they remove the
protectants with gentle but
effective surfactants."
By explaining that she is the owner's ally, she has a chance that he will not only hear her, but will participate in the project to save money in other areas that he can use for his beloved game room.
It might go something like this, "Sam, in the estimate that we gave the adjuster, we suggested that we should clean and deodorize all those boxes of Halloween costumes and kids clothes in the attic. Well your kids are all grown up now, maybe if we set those aside without running them through the cleaning process we'll save a couple hundred dollars that we can be used toward fixing up your playroom.
"And there are probably a dozen things you can think of that don't matter as much as your game area. For example, there are boxes over there that were open during the fire and are contaminated with soot. When I examined them, I noticed that they are full of VHS tapes. And I did not see a VHS tape player anywhere in your home. Perhaps you can take out the ones that are keepsakes and we can save some available funds by not processing the others.
"Let's go room by room for a quick inspection to see which things can be donated or discarded, that will leave us with enough funds to get some extra man-hours. We won't even consider withdrawing the cleaning and restoration of anything you value. All we are looking for are items we can discard, donate to charity or you can clean yourself.
"What you want is what we want. But we are going to need some guidance from you as to how we can best serve you."
And so it goes. The whole idea is to deflect this homeowner's wrath away from the adjuster and into a more constructive path.
By inviting the owner to participate in the restoration of his home, by making sacrifices in one part of the assignment in favor of the vision he has, we are giving him a sense of control and an opportunity to pursue a more constructive course.
There are very few restoration teams that would do this for the adjusters and agents (after all, their job is to restore the home, not deal with angry clients – in fact they try to avoid upset homeowners at all cost!) But the contents pros not only save money on each job for the carrier, they participate with the adjusters who gave them the opportunity to get the job in the first place – and their goals are three-fold; get the job done and help the adjuster move on to the next one; get the job done well and see it that a great deal of money is saved by the insurance carrier because they (the contents pros) restored valued items instead of having the adjuster replace them; and third, to "bring peace to the adjuster's valley" because that is one of the reasons adjusters will by-pass the vendor list just to get to them.
When an insurance adjuster has someone who cares about the outcome of each mission, and can actually do something about disappointed and distraught customers, it frees him (her) to focus on the job at hand, end it amicably, and quickly move on to the next one without being drained by the encounter.
After all, it is easy for an adjuster to explain to his (her) boss that this contents company performs specialty services that no other vendor offers – not the least of which is that they help make the insurance carrier look good to the public by dealing with the tough customers and keeping the job moving forward.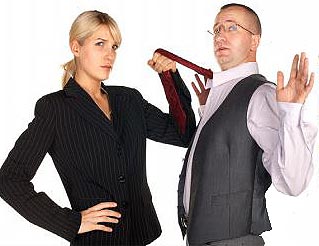 Besides, well-trained contents managers know what is in the budget even before they begin the job! Does that surprise you? Professional contents teams seek out the adjuster before they even begin to work. They give a strong pre-estimate, followed by a strong scope of the job (methods and practices).
The adjuster then has the opportunity to tell what the policy covers (and does not cover).
Thus, before they even start, the contents pros know how they will proceed and that their plan already has the "go ahead" from the adjuster. If a change order is enacted, they don't proceed with that new work until the adjuster has approved it as well.
HAVE YOU HIRED A CONTENTS TEAM THIS WEEK?
We ran across a novel display that got us to thinking. It was a waiting room in a contents company that contained items which had been deemed "non-salvaged," but had subsequently been restored and were now a functional part of the décor.
They included a big screen television mounted on an elaborate base (which was obviously part of the original unit) and offered a small notice explaining where it came from and the fact that they had restored the entire assemblage for about one-third the cost of preplacement.
There was also a corner table of deep, dark wood and wrought iron, nestled in a corner and an antique lamp that looked as if a collector would pay a small fortune to own.
And then we saw a high-backed leather chair with arms – perhaps something that a judge would have in a turn-of-the-century courtroom.
If you haven't hired a contents crew this week, maybe you should consider it. There were thousands of dollars represented in just five pieces – just think (dream) of what they can do for you!
Sherwin-Willams, the paint manufacturing giant, just announced a new "antimicrobial paint." USA Today ran a story about it saying, "Future hospital patients may have walls to thank for saving their lives."
And added, "The product, dubbed Paint Shield, earned certification from the U.S. Environmental Protection Agency for killing more than 99.9% of bacteria such as Staph, E. coli, and MRSA, Steve Revnew, senior vice president of product innovation for Sherwin-Williams said in an interview."
And USA Today quoted the spokesperson, "Applications for the paint could include medical complexes, locker rooms, schools, daycare centers, hotels, homes and cruise ships."
But all this is not news to the contents pros. We have had access to antimicrobial liquid coatings for quite some time. Benjamin Moore (another well-known paint producer) has had their EcoSpec WB Silver – which has silver molecules mixed into the paint (silver has antimicrobial properties).
And the venerable Microban has offered, for years, the Microban AG-Series which uses silver to disrupt bacterial reproduction.