DFW's Trusted Leader in Restoration and Clean-Up, Since 1976
24/7 Emergency Services
May 2016: Special Mold Edition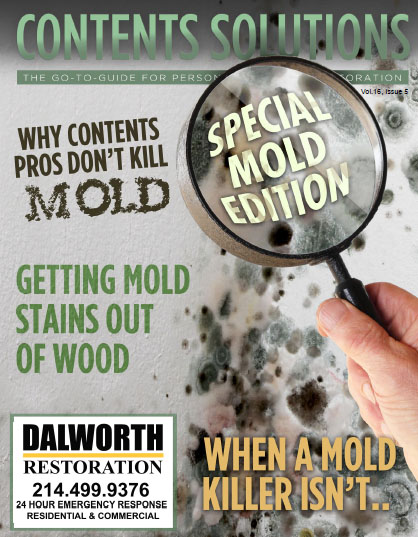 The main goal for contents pros, as always is to restore, not replace. And they are keenly aware that their job is not to merely kill mold on hard and porous surfaces, they must remove all traces of it in order to perform a complete service.
AMI Environmental Testing agrees, "…as mold dies it dries out and starts to release spores into the air at a highly accelerated rate, and mold spores dead or alive have the same effect on people and animals."
And they add, "…The objective of mold remediation is never to kill mold, treat mold, toast it, or poison it with gas. Mold remediation means mold removal. Therefore the goal of remediation is always to remove the mold."
So how can the contents professionals make the insurance carrier look good while producing excellent customer satisfaction?
They approach the job in stages – not unlike a scientific protocol.
First, they create containment, so there is no chance of cross contamination. They even build small chambers out of plastic sheeting to be used with large items like couches and tables that are festooned with mold.
Next, they remove materials that simply cannot be restored in a cost effective way – making sure that they are either "bagged" or cleaned so as not to contaminate rooms and items as they are moved.
Then the specialists use an industrial vacuum with HEPA filters, to remove the surface mold from all salvageable articles. Sometimes soft paint brushes are used in the vacuuming process to further agitate fragile surfaces, releasing loose mold spores.
They may even pull out stoves and refrigerators to make sure there is no mold growing behind or under them.
They always invite an Indoor Environmental Professional to Verify that their remediation was a complete success.
And of course throughout, they wear personal protection equipment to avoid breathing in spores or getting them in their eyes.
There are many excellent formulas for killing mold but the modern contents pro won't use ozone (even though it was a favorite twenty years ago). The EPA states, "If used at concentrations that do not exceed public health standards, ozone applied to indoor air does not effectively remove viruses, bacteria, mold, or other biological pollutants.
"Some data suggest that low levels of ozone may reduce airborne concentrations and inhibit the growth of some biological organism while ozone is present, but ozone concentrations would have to be 5-10 times higher than public health standards allow before the ozone could decontaminate the air sufficiently to prevent survival and regeneration of the organisms once the ozone is removed…"
The procedure may have several layers for success built in, but the underlying premise is simple, "Protect the owner and his/her family during the process. Protect the health and safety of the front line workers. Save as many items as is possible by killing and removing any trace of the mold. Leave the home restored to pre-loss condition."
So the underlying philosophy is really two-layered, "Do a job that you know you would be proud to have in your own home." And, "Save the insurance carrier massive sums by restoring instead of simply discarding contaminated items."
GETTING MOLD STAINS OUT OF WOOD
Sometimes mold can actually burrow down into the pores of wood, defeating our best efforts to remove the stain. That is where superior training comes in.
We could refer the case to a furniture repair shop, but if the piece is not a valuable one and time is of the essence, a very fine sand paper might do the trick. Not the kind of sand paper you get in a pack of 10 at a department store. The one we refer to would have a grit so fine that it could be used to "polish" dull car headlight covers.
A contents pro would first wipe the surface with a mold killing solution (damp cloth – not dripping wet). Let it dwell a few minutes, then clean the dead mold spores away.
Next he (she) would gently "scuff" the mold stain with the sand paper and polish the spot or seal it with a clear varnish.
If necessary, even a little wood dye might be used o replenish the color before sealing. There are "touch up' kits available to the contents manager who are sometimes called upon to use their expertise in order to restore discolored furniture ad to swave significant sums for the carrier by restoring instead of replacing.
WHENA MOLD KILLER ISN
"Our mold and mildew stain remover oxidizes with powerful peroxide cleansers."
"We use enzymatic action to remove even the toughest mold stains."
"Stain eraser – perfect answer for making mold stains disappear."
They all sound good until you realize that none of them said that they actually kill mold. The truth is that there are dozens of products that sound great and actually make mold stains disappear, but the job of all legitimate mold mitigation companies is to remove mold, not make it invisible.
There are real mold killers on the market and no matter what their competitors are doing, the contents specialists use them first – then go on to make things look good as well.
The IICRC's S520 procedural standard states, "the presence of visible stains is not an indication that an item is contaminated." And adds, the removal of mold stains is not an indication that an item is contaminated."
So yes, mold must be killed and removed (it is a number one priority), but no contents until the mild stain is gone as well.
The S520 concludes, "Although removing contaminants is the primary focus of mold remediation, it is recommended that customer expectations be addressed and the contents be 'appearance enhanced' to the extent practical before being returned to the customer."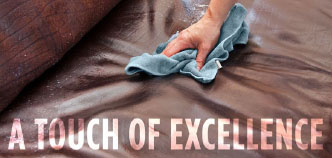 Earlier in this issue we explained why the contents professionals don't use ozone to remediate mold. And in previous volumes we have mentioned such cutting edge mold killing tools as chlorine dioxide, aqueous ozone and the "botanicals" that offer a "Spray and walk away," approach.
Lately, we have become interested in a new way to use peroxide and it is likely that we will tell more about it in an upcoming issue.
But right now, let's talk about a few basics.
For example, let us pretend that we have discovered black mold on a wooden table or leather couch. And the adjuster simply cannot give us the time to move the furniture into one of our special mold removal chambers, so a very hands-on approach is called for.
Of course we would HEPA vacuum the surface (in a well ventilated room or even outside), but then what? Mold has roots, and may well have worked its way into the leather or the porous wood. Amateurs would use bleach, but that would only remove the mold stain and leave all the spores in place for a rapid return of the contamination (plus bleach is composed mostly of water – something that mold needs to thrive)!
And worse, bleach will almost assuredly discolor leather and many wood manufactured items.
Today's contents pros have genuine mold killing solutions that will penetrate down into the fibers and kill the "roots" of the mold without damage to the valued item.
And here is a tip – the less moisture the better. Contents pros normally use microfiber cloths and whatever their mold-killing compound might be. Instead of spraying the surface of the contaminated item, they spray the cloth and use it to apply the solution. Thus the antimicrobial substance can do its work without fear that it will also be "feeding" the mold.
Then, a final sealant would be applied. For leather perhaps a top-of-the-line leather protectant. For wood, a good, penetrating wax is in order.
We want the result of our jobs to last, so this final gesture (while not necessarily on the list of common practices) is like our "seal of excellence." No one may notice, but we know that we have offered a little extra value for our clients and their carrier.
A CONTENTS PRO'S QUICK TIP
Here is a quick tip that the contents pros use. If you are ever wondering whether you actually are looking at mold or just some dirt left over from a fire or flood, take some ordinary household bleach and moisten a cotton ball or a tissue with it, then press the cotton or tissue onto the suspect dark spot.
If it turns out to be mold, the chlorine will bleach it out rather quickly, turning the spot from black to a light brown.
Dirt won't respond to chlorine that way.
And to be sure not to go around dabbing chlorine on just any surface – make sure whatever you touch it to is color fast and won't be damaged by the chemical itself.