DFW's Trusted Leader in Restoration and Clean-Up, Since 1976
24/7 Emergency Services
April 2015: Packing With Air and Styrofoam When Only the Best Will Do!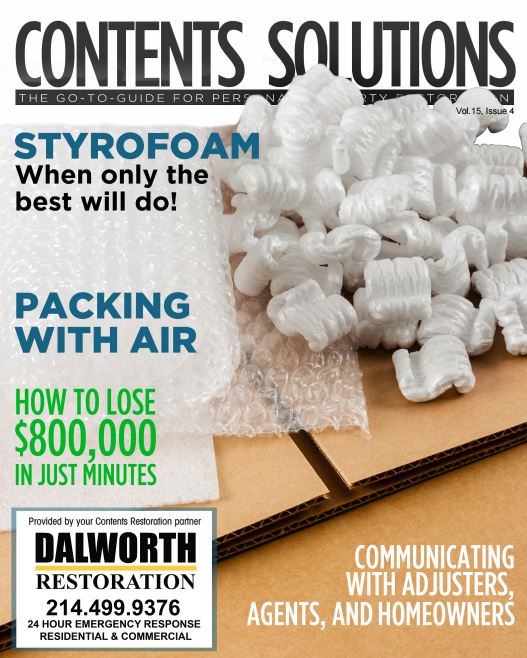 Contents restoration professionals have found massive amounts of packing materials during their quest to make the insured's valuables safe during the packout process.
Everything from Styrofoam pellets to custom cut Styrofoam blocks have been employed in their search for the ultimate process.
Of course Styrofoam is the "tool of choice" for most contents pros, it is economical, easily handled and employed, and a block of it can be cut in large chunks or indentations to protect virtually any product (many electronics manufacturers have it shaped to form fit their computer monitors, "towers," and printers, but most contents specialists agree that to customize their polystyrene slabs and wedges to every item on every job would be cost prohibitive – so they opt for the pellets.
Even pellets (sometimes referred to as, "packing peanuts,") vary in their ability to properly cushion the customer's valued items. The standard white ones that every contents pro knows and uses when engaging in best packout procedures, cushion well, fill voids and are inexpensive enough to be used on most move out jobs.
The pink ones are static free and are often employed when packing and transporting delicate electronics equipment – including computer hard drives (the white ones are most entertaining in elementary school demonstrations when showing how they store and release static charges, but are very hard on electronics!)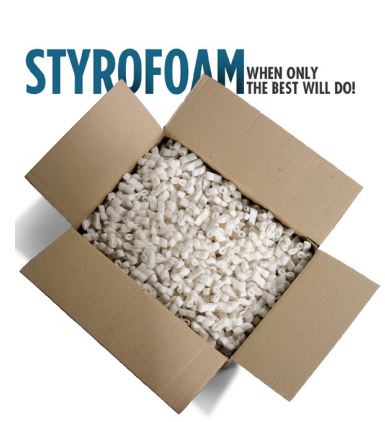 The only real challenge with Styrofoam pellets is that they do not biodegrade well – some landfills won't even accept them. So, when a new type of "packing peanut" came on the market, the contents pros paid close attention.
"They are made from starch," explains North America's foremost authority on contents restoration, Barb Jackson CR. "Soy, sorghum, corn and other starch-based products have been used to produce such packing materials and they do offer some decided advantages. If a pet were to accidentally ingest them, they are not lethal. They have no static charge which is good when packing electronics. And they dissolve in water, so disposal is no problem at all.
"The challenge comes with a peculiarity that is unique to the starch-based peanuts – they can absorb water, which may sound like a great idea until you realize that they also absorb moisture from the air (Styrofoam peanuts can actually be thrown in a swimming pool and found perfectly intact days later, still floating on its surface).
"Often we have found the starch-based peanuts simply crumble and disintegrate either before or after a packout. Once they crumble they are useless as a protective packaging material – they 'biodegrade' before we even get a chance to employ them. We don't use them and we don't recommend them.
"Styrofoam can be recycled. The only real drawback we have found occurs when an untrained worker puts too little Styrofoam in the boxes. When too little is used, the objects they are cushioning tend to "migrate" and end up against the bottom or one of the sides and that is a risk the trained professionals never take."
PACKING WITH AIR !
Not long ago we were reading about a coffee aficionado who was complaining about tiny shreds of Styrofoam that had worked their way into his favorite coffee maker – our solution? Bubble wrap!
We know it isn't all that exciting, but it has served the contents industry for a long time and there are some new innovations that we incorporated and have been using without any real fanfare.
First, we use bubble wrap with tiny bubbles (perhaps a quarter of an inch) for some things that are… well… tiny. Eyeglasses, a watch, small figurines, etc. are more easily wrapped with small bubbles – but the "rule of thumb" is that the bigger the object, the bigger the bubbles.
More recently, historically speaking, we have been using "air bags," that are pre-inflated and come in sizes such as 4" x 8", 6" x 2" and even 8" x 12" – they can protect even large, heavy objects. And they absorb impact even better than Styrofoam!
The "latest models," are "green" and bio-degradable. Soon you will be seeing the pillows employed more often as the technology catches up with the need.
EBOLA SLAYER
IS HARMLESS TO HUMANS
When the Environmental Protection Agency released its, "Disinfectants for Use Against the Ebola Virus," list, we expected to see products from the Clorox® bleach line, (there were quite a few), and even Lysol® but we were pleasantly surprised to see an entry from the thyme derived solutions genre. Bleaches and harsh chemical compounds (often listed as "insecticides") have long been used to destroy unwelcome bacteria.
But when the contents pros discovered the thyme-based, human friendly products, they embraced them with both hands. Hospitals, government buildings, corporate facilities, schools, etc. welcomed the contents restoration companies that used them, but it was a long time coming before the EPA finally recognized them on their "anti-Ebola" list.
For quite some time the contents pros have been using thyme-based (herbal) disinfectants on sewage back-up and water damage cases. But when it was shown that the same solutions were bactericidal against Staphylococcus aureus (Staph), Salmonella, E-coli, and that they are also virucidal against Rhinovirus (the common cold virus) and Influenza A including H1N1 on hard, non-porous surfaces, they expanded their client base by letting public agencies and private homeowners know that they had it.
And the insurance agencies who invited them in on new jobs often found that the customer satisfaction rate was remarkably favorable.
These new thyme-based solutions are harmless to humans (so harmless that a well-known medical commentator sprayed some in his mouth on nation-wide television!) So to know that they are effective against even the lethal Ebola virus is welcome (and timely) news indeed!
Tish Hummer is a restoration industry consultant. She is unique in that she also spent time as an insurance adjuster and even a brief stint as an agent.
She writes for Cleanfax Magazine and recently we saw an article that caught our attention. Tish has always felt that restoration professionals need to understand those for whom they work and to address the fears of each customer and referral source in order to maintain a good working relationship.
As an example, insurance agents are concerned with such matters as, "Clients talk to friends and neighbors — during and after a property loss. What if the claim is handled poorly or the contractor screws up?"
Ms. Hummer's remedy is for the restoration company to, "Address your company's communication system for the agent and the adjuster, as well as the customer. Address your customer service standards." And, "Address their retention issues." Show them how you will help get renewals and good word-of-mouth from the homeowner.
The adjuster worries about, "I don't want or need a lot of phone calls from the insured or the contractor. I don't have time to answer construction questions or questions of job timelines. That's not my job." And, "If the contractor screws up, it's my reputation on the line, and I'll face the consequences."
She suggests that contractors who help the adjuster "Close files faster, (and discover) how they want to be communicated with and how often," are highly prized. And they should "Have a guarantee — put it in writing; make it official," this can make things a whole lot easier for the adjuster and maintain a great relationship.
And for the concerned homeowner she recommends that the restoration contractor, "Address a guarantee for your work. Give them a 'communications tree': Who they should call first, second, etc., and for what information. Communicate security, conveying why they should trust you. Lay out a realistic timeframe for work to be completed…"
And if all this is sounding familiar, it is probably because contents professionals have been following Tish Hummer's advice for decades! Helping agents get renewals, helping adjusters clear their desks, providing stellar results and helping the homeowner feel a sense of control and trust have always been of paramount importance to the contents pros.
The insurance carrier representatives who hire them have come to appreciate their skills – and their extraordinary customer service.
HOW TO LOSE $800,000 IN JUST MINUTES
On the History Channel's show, "Pawn Stars," a man came in with a 1907 Saint-Gaudens double eagle $20 gold coin. Such coins have sold for more than a million dollars in the past. But, when the expert looked at the coin, he said that it was only worth $17,000 to $18,000. What happened? Somebody had cleaned it!
In past articles we have mentioned why coin collections should only be handled by experts. And we have told how we clean them, but when valuable coins are covered in soot and ash (and smell like a house fire), many factors have to be taken into consideration.
The contents pros may end up cleaning and deodorizing a coin collection, but only the owner and a numismatic conservation professional should be consulted as to just how much cleaning can be done before the worth of the coin is jeopardized.