DFW's Trusted Leader in Restoration and Clean-Up, Since 1976
24/7 Emergency Services
Over 68,150+
Successful Restoration
Projects Complete
24/7 Emergency Services
Free Estimates
Work Directly with All Insurance Companies
Bonded & Insured
Garage Fire Damage Restoration in Dallas-Fort Worth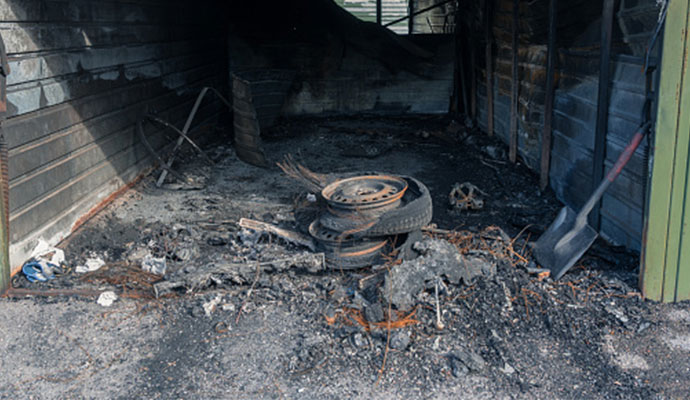 Fire accidents are one of the most dreadful things for a homeowner. That's because it can burn everything down to ashes, causing irreversible damages and risking lives. So it's no wonder why we take so many precautions including installing the latest smoke, fire detector, and other fire alarm systems. But what about your garage?
According to the U.S. Fire Administration, each year there are approximately 6,600 garage fires in the United States. And contrary to common belief, the majority of garage fire occurs in the coldest months of the year! That is why Dalworth Restoration provides garage fire damage restoration for our customers in Dallas-Fort Worth.
Given that the garage is connected to your house in one way or the other it's important to take equal fire safety measures here too. But God forbid, if you do have to face such an unfortunate situation, contact a licensed professional restoration contractor to minimize damage and get the best insurance claim deal.
Dalworth Restoration is a licensed, local, professional fire, smoke, water, and other restoration and clean-up service provider. Our service areas include Westminster, Weston, Heath, Highland Park, and other Dallas–Fort Worth metropolitan areas. We have certified professionals, advanced techniques, and state-of-the-art equipment and facilities to deal with all kinds of fire damage scenarios including garage fires.
When you experience a garage fire, we offer a 24/7 response. Call us today at 817-203-2944 for more information.
Some Common Causes of Garage Fires in Dallas, Fort Worth, Frisco, & Arlington
Electrical Malfunction: Electrical malfunction is one of the leading causes of garage fires. These fires can start because of shorts in wires, damaged wires, overloading electrical outlets, etc.
Flammables: Fire can also start due to flammable materials stored inside the garage.
Lack of Fire Detectors: Garage fire also starts due to lack of fire detectors in the garage to detect early signs of fire, smoke, smell, etc.
Carelessness: Due to not having to spend much time in the garage or not being spot frequented by guests it is often kept unclean, unchecked, unattended leading to unwanted fire hazards.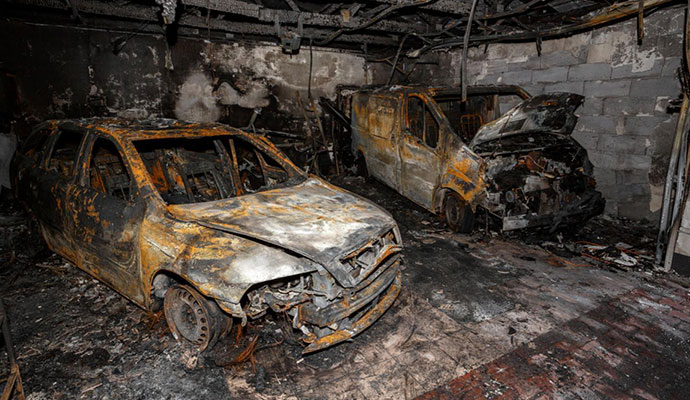 Important Steps for Homeowners Dealing with Garage Fire Damage in DFW
Keep Calm: As dreadful and scary the situation may be, keep a level head and take on recovery steps calmly and deliberately. 
Insurance Claim: Contact your insurance company right away. If you have insurance on your property, you'll want to call them as soon as the fire is safely extinguished.
Inspection: Have the damage inspected by a third-party, licensed restoration professional.
Trust Dalworth for Garage Fire Damage Restoration in Plano, Irving, & Grand Prairie
There are several reasons to trust Dalworth Restoration as the company to handle your garage fire damage restoration. Some of the best include:
Dalworth Restoration is a fully licensed General Contractor in Texas who has been providing fire damage restoration services in North Texas and the DFW Metroplex since 1976. We offer a complete range of fire damage inspection, installation, repair, replacement, and maintenance services for all kinds of residential and commercial properties.
To provide our customers with next-level restoration solutions we have partnered with industry-leading products and equipment manufacturers.
We also work with most insurance companies and thus understand the insurance industry rules and regulations very well. And will assist you with fire damage insurance claims to the completion of the restoration job. The work we do is generally covered in your insurance policy.
Our crews are available 24/7 to dispatch to your property and our experts are standing by to take your call at any time you might need.
We also provide other restoration services such as garage water damage, storm, and mold damage, etc.
So if you are facing any kind of fire-damaged issue in your property and looking for experienced professionals to give you the best solution then call us today at 817-203-2944 or contact us online and we will be happy to help you any time.