DFW's Trusted Leader in Restoration and Clean-Up, Since 1976
24/7 Emergency Services
DFW's Trusted Leader in Restoration and Clean-Up, Since 1976
Wind Damaged Roof, Siding and Windows Repair DFW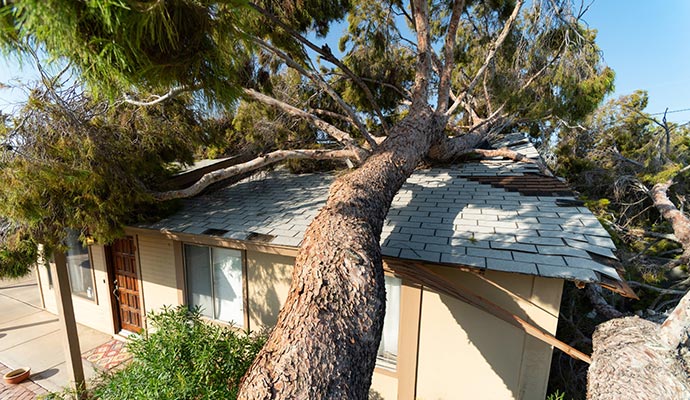 Water damage Dallas exposure to tornadoes is high as the metroplex sits squarely in tornado risk zone. Tornados can be very dangerous and are often deadly as they can destroy both life and property and do so within minutes and at times, without warning. Winds can be as fast as 300 miles per hour, while a tornado can move forward as fast as an average vehicle on the highway. Naturally, that kind of speed and force can be very powerful and destructive. Dallas residents can read about tornadoes and safety measures to better prepare for them. Tornadoes are a real risk in the Dallas Fort worth metroplex, so general knowledge about these storms is recommended.
Wind, Hail, and Rainstorm Damage
Fast swirling winds, large hail and mighty rainstorms usually accompany tornadoes and cause massive water damage to Dallas Fort Worth homes and properties. Winds can literally sweep roofs off houses as hail pelts, strikes and assails standing structures to the point of breakage and destruction. Resulting falling trees and flying debris may further exacerbate storm damage and injuries, as they land on homes, fences, cars and people. Wet attics, skylight damage and roof damage from hail and rain contribute to further destruction inside the home when they result in wet floors, wet carpets, soaking furniture, flooding inside the home and untold chaos. During such strong winds and rainstorms, the tremendous effects of water damages on the Dallas Fort Worth area are devastating.
Dalworth Restoration to the Rescue
Since 1976, Dalworth Restoration has been helping residents in all water damage Dallas repair and restoration emergencies as well as disaster recovery efforts. Commercial and residential property drying, wind damage clean up, debris removal, roof wind damage repair, flood, rain, and hail damage restoration are all handled professionally and expertly. In addition, Dalworth Restoration handles all insurance billing to accelerate claim approval and reduce unnecessary paperwork. Call Dalworth Restoration at 800-326-7913 for any water damage Dallas emergency, such as storm water damage, flooding, rain and hail damage and other water damage restoration needs. All estimates are always free.