DFW's Trusted Leader in Restoration and Clean-Up, Since 1976
24/7 Emergency Services
Arlington Flooded Bathroom Restoration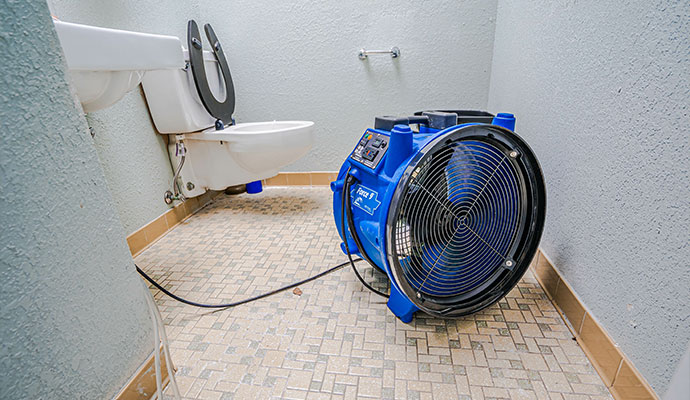 Dalworth Restoration completed an Arlington flooded bathroom restoration project in mid November. Water damage occurred at an older house from a blocked pipe under the sink in the master bathroom. The pipe was leaking for some time, but the homeowners became aware of the problem only when the pipe burst and flooded the master bathroom and the attached closet.
The homeowners were away at a dinner party and when they came home, they were surprised to find a flooded bathroom. They called Dalworth Restoration and our crew arrived within 45 minutes of receiving the call. The bathroom and closet floor was tiled, so water extraction was relatively smooth. Had the floor been carpeted, water removal would have been a longer process.
Our restoration personnel attended to the water extraction process in the bathroom. The closet, however, had several storage boxes filled with clothes, books and toys. The bottom boxes were all water damaged and some of the items were removed from the premises and sent to our content restoration facility for drying, cleaning and salvaging. The top boxes were unharmed, and so our technicians removed them to another part of the house until the flooded bathroom restoration was complete.
All the water on the closet floor was then extracted as well and fans were strategically placed throughout the affected area for even drying. This was a straightforward water restoration project. No walls were affected since the drying and cleanup were quick, thorough, and efficient. However, mold was detected in the under-the-sink-cabinet where the pipe was leaking for some time prior to bursting. As a result, the cabinet had to be treated for mold infestation.
Since the water restoration project was contained to a small area in the house, the owners moved to a spare bedroom and were not inconvenienced terribly by the flooded bathroom drying, cleanup and repairs that lasted several days. Once Dalworth Restoration completed the restoration job, we returned all salvaged items and arranged them according to the instructions of the lady of the house. All items were beautifully restored and the bathroom and closet were fully operational and looked brand new after we were done with the water restoration job.