DFW's Trusted Leader in Restoration and Clean-Up, Since 1976
24/7 Emergency Services
Over 68,150+
Successful Restoration
Projects Complete
24/7 Emergency Services
Free Estimates
Work Directly with All Insurance Companies
Bonded & Insured
Flood House Technician Training at Dalworth Restoration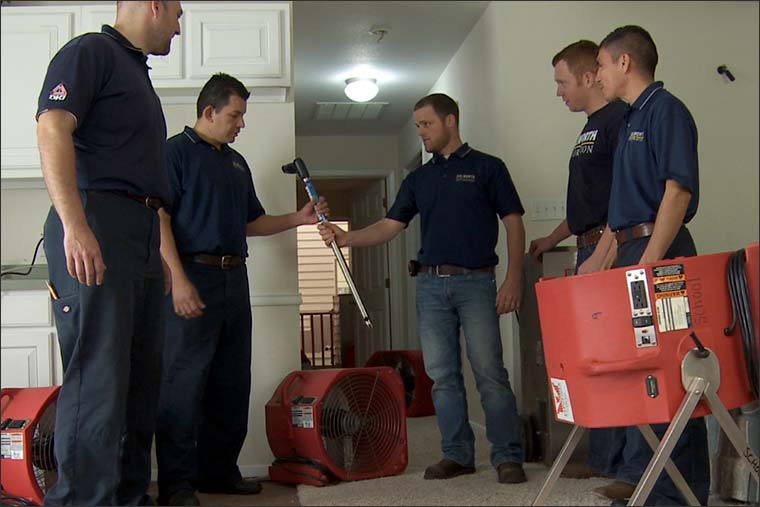 What Are Flood Houses?
Restoration companies build flood houses as a realistic training tool for water damage restoration crews as well as insurance professionals. These houses are purposely flooded to recreate authentic water damage and mold scenarios with wet carpet, flooded wood floors, water damaged sheetrock, drenched furniture as well as other typical flood damage situations. The crews are then trained in the latest restoration and remediation techniques in an increasingly evolving and forward thinking industry. In essence, flood house training is the most effective hands on method to educate restoration professionals. The alternative would be to train new techs on the job, where every team member, ideally, should hit the ground running rather than slow the work down.
Innovation in the Restoration Industry
The restoration industry is constantly evolving, with innovative ideas and newer, more effective disaster recovery methods, equipment and eco-safe cleaning supplies. Flood house training is a good way of keeping abreast of all these cutting edge techniques and tools and testing them out before applying them to actual restoration jobs. These industry improvements touch all aspects of business activity, such as water extraction and drying, flood cleanup, mold remediation, property reconstruction, basement waterproofing, and content restoration.
Dalworth Restoration Flood House Training Facility
Professionals Attending
Dalworth Restoration has two flood houses in its Dallas Fort Worth facility, designed specifically for water damage remediation training purposes. The company conducts hands on training sessions, combined with classroom instruction, not only for in-house staff, but also for contractors and other restoration companies, as well as insurance industry personnel. New technicians and insurance industry experts gain valuable insight into hands on flood cleanup and mold remediation work, while experienced water damage professionals get further training in new restoration methods.
Dalworth Restoration Classes
A sample training day begins with over a thousand gallons of water pumped into a flood house, effectively soaking the tile, carpet and wood flooring as well as furniture and household appliances. Technicians are instructed on how to properly set up a drying chamber by learning the formulas necessary for dehumidification and equipment placement. They use classroom taught techniques to extract water as well as clean and dry the affected areas using dehumidifiers, fans and other necessary equipment. Flood house training takes three days to complete, as various materials dry at different rates.
Dalworth Restoration uses both its flood houses for remediation training. The first flood house is a fully functional 900 square feet, two bedroom, one bathroom house. It has a kitchen, utility room and a hall and is fully furnished. The company uses this house to train staff on structural drying. Flooring includes tile, vinyl, carpet with pad and glue down carpet. These are used to train crews on different extraction methods for the variety of flooring surfaces. Although this house was purposely flooded and restored well over 50 times, kitchen cabinets and bathroom vanity, as well as all baseboards and framing around doors throughout the home have never needed to be replaced and maintained their integrity through all the flooding scenarios. This is due to the professional water extraction and drying techniques Dalworth Restoration employs.
The second flood house is smaller than the first. It is 700 square feet, with an open floor plan. This house is used for drying out wood flooring and providing instruction on proper and effective use of equipment.
Practicality and Cost Effectiveness
Because there are so many weather and accident related residential and commercial water damage and flood emergencies, there is quite a need for restoration services. Therefore, flood house training is an important practical tool for doing quality, professional work. Flood houses are designed to be repeatedly flooded and restored, providing a cost effective training tool, which helps avoid expensive on the job mistakes.