DFW's Trusted Leader in Restoration and Clean-Up, Since 1976
24/7 Emergency Services
Water Damage Cleanup Case Study in Fort Worth, TX
Customer: A. Zanes
Event: Water Damage Cleanup
Services Provided: Emergency Service, Water Extraction, and Structure Drying.
A water damage restoration project was successfully completed in Fort Worth, TX  this week by Dalworth Restoration. When the homeowners called to report their flood situation and requested help, the damage was described as a ice machine pipe burst that flooded part of the home.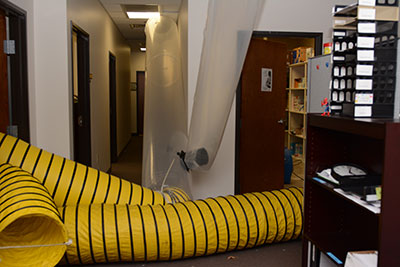 However, when Dalworth technicians arrived at the scene and inspected the severity of the situation, they discovered there was water in the attic. 
In addition to the water damage that occurred by the constant water leak, there was further, more immediate, water damage in terms of the pipe flooding that soaked many items and threatened to ruin the carpet as well. Thankfully, the homeowners alerted Dalworth within minutes of the accident, so this water damage flood in Fort Worth fared well. In fact, as soon as technicians arrived at the scene, they set up pumps to extract floodwater out of the home and fans to dry the structure of the home. 
The homeowners were delighted that Dalworth Restoration was able to get them taking care of so quickly. Call Dalworth Restoration  today for your estimate at 817-203-2944. Our Restoration crew's are ready 24/7 for emergencies.