DFW's Trusted Leader in Restoration and Clean-Up, Since 1976
24/7 Emergency Services
Over 68,150+
Successful Restoration
Projects Complete
24/7 Emergency Services
Free Estimates
Work Directly with All Insurance Companies
Bonded & Insured
Crawlspace Encapsulation in Dallas-Fort Worth
Crawlspaces in damp, humid regions can collect water or moisture, attract pests, never fully dry out, and even invite conditions for mold growth. These areas are meant to help protect parts or all of your home from flood conditions or help mitigate water damage, but they're also potential breeding grounds for musty odors, bugs, rodents, or other unpleasantness.
Crawlspace encapsulation waterproofs these areas, seals openings where water might intrude, closes outside ventilation, or dehumidifies the entire space. It can be involved, but in the end, a dry, dehumidified crawlspace means better indoor air quality, pest control, and less moisture.
Dalworth Restoration provides seamless, effective crawlspace encapsulation in Arlington, Dallas, Plano, Garland, and across our Dallas-Fort Worth service area. For affordable, superior assistance with any fire or water damage, as well as waterproofing for crawlspaces, call Dalworth Restoration at 817-203-2944 or contact us online to learn more and arrange a consultation.
Why Crawl Space Encapsulation in Allen?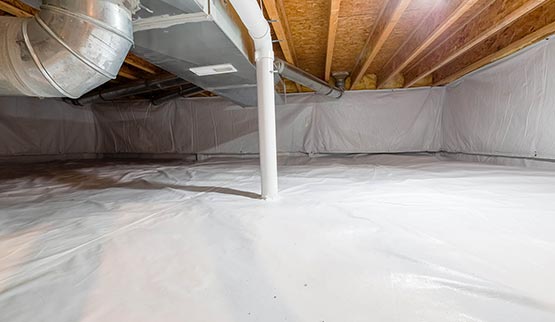 Crawlspace encapsulation might not seem like a priority for your home, but having Dalworth Restoration waterproof your crawlspace has these advantages:
Reduce or eliminate pests, mold, etc.: Your crawlspace can flood or become persistently damp for many reasons. Water trapped here doesn't easily evaporate with minimal ventilation. Mold or mildew can take hold, as well as insects, rodents, etc. Crawlspace encapsulation keeps this area free of the moisture that invites such conditions.
Improved air quality: Elevated moisture, fungal levels, bacteria, pest remnants, and more degrade your overall indoor air quality, whether in or above a crawlspace. These allergens contribute to breathing difficulties, unpleasant odors and more air quality breakdown. Encapsulation effectively "cleans" your crawlspace.