DFW's Trusted Leader in Restoration and Clean-Up, Since 1976
24/7 Emergency Services
Over 68,150+
Successful Restoration
Projects Complete
24/7 Emergency Services
Free Estimates
Work Directly with All Insurance Companies
Bonded & Insured
The STARC® Modular Wall System in Dallas-Fort Worth, Texas
Although renovating a portion of your commercial property helps improve your brand, it can significantly inconvenience your business. Even while the construction's going on, you still need to report for work, and completing your tasks with all the noise in the background is a hassle. Additionally, the dirt and dust coming from the renovation can mix with your goods, hardware, and electronics.
During this time, it's possible that your business' productivity will be put to a halt. Thankfully, the STARC® Modular Wall easily solves that problem. Contact Dalworth Restoration today so we can deliver and install it for you.
The STARC® Modular Wall Difference
The STARC® Modular Wall is a high-performance containment system, perfectly engineered for commercial, industrial and institutional construction settings. It's comprised of panels and other modules that are designed for easy installation, relocation, dismantling, and cleaning. The modular wall provides maximum flexibility for most isolated situations, as well as manages difficult sealing problems with ease. Plus, it's a sustainable GREEN solution that doesn't harm the environment.
Product Features
The STARC® Modular Wall is unlike any other containment system you've seen. Not only is the system's telescopic height adjustable from 6'-10" to 10'-3", but it also has the following features: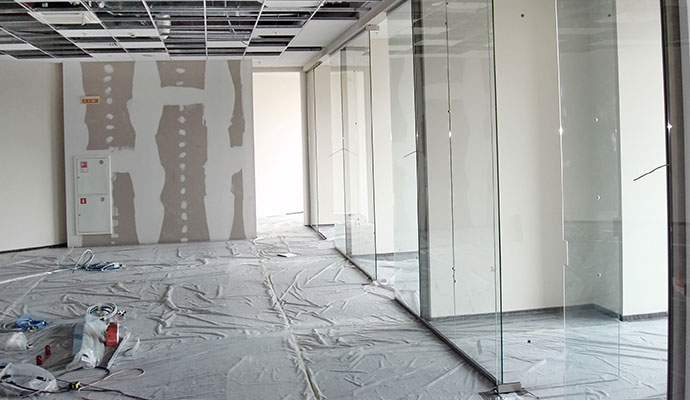 Entire area encapsulation
Easy to install and maintain
Sticks to uneven flooring and ceiling
Optional removable custom graphics
Urethane foam core reduces sound transmission
The anodized aluminum frame makes it clean, and durable
High-strength construction keeps it stable and prevents it from twisting
Provides an air-tight seal and barrier that blocks harmful particles and contaminants
With a STARC® Modular Wall in place, you can continue working without being distracted with the nearby construction. You'll also be able to create a clean and safe environment for you and your workers.
Create a Healthy, Clean, and Safe Environment with Dalworth
If you want to have the STARC® Modular Wall system setup before any renovation project, give us a call at 817-203-2944. Our fully licensed and certified technicians will be more than happy to install it for you. Once the project is finished, you can call us again to have it dismantled. Our professional hands ensure that the system stays in its place and delivers quality performance.
If your property has been struck by a disaster, Dalworth provides reliable restoration services for water, fire, as well as storm and flood damaged properties in Dallas-Fort Worth, Texas. Our emergency services are available 24/7 so you can reach us at any time.