DFW's Trusted Leader in Restoration and Clean-Up, Since 1976
24/7 Emergency Services
Over 68,150+
Successful Restoration
Projects Complete
24/7 Emergency Services
Free Estimates
Work Directly with All Insurance Companies
Bonded & Insured
Water Damaged Hardwood Floor Restoration in Dallas-Fort Worth
Hardwood floors on your property are vulnerable to water damage. Because water on the floor can cause warping, staining, and even mold growth. However, with the right restoration techniques from professionals, it is possible to save water-damaged hardwood floors and restore them to their former beauty.
Speaking of experts, Dalworth Restoration is your local expert with years of experience and a large team of professionals. If you are troubled with floor water damage on your hardwood floor, make sure to contact Dalworth Restoration without hesitation. We are available in Dallas, Fort Worth, Arlington, Frisco, Plano, and other service areas in North Texas. For our assistance, call us at 817-203-2944 or book an appointment by clicking here.
Benefits of Our Water-Damaged Hardwood Floor Restoration Services
When you appoint the professionals at Dalworth Restoration, you can expect the following advantages-
Restoration of the beauty and value of your hardwood floors: Water damage can cause unsightly stains and warp on your hardwood floors, reducing their aesthetic appeal and value. With our professional wood floor water damage restoration, your floors can be restored to their former beauty and value.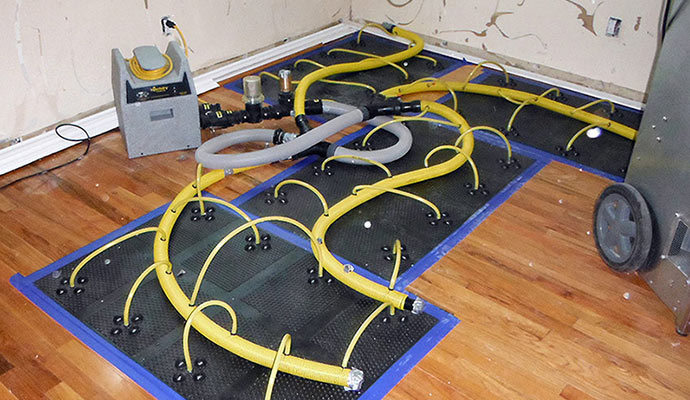 Prevention of further damage: If water damage is not properly addressed, it can lead to further damage such as mold growth, rotting, and structural damage. We can prevent further damage and ensure that your floors remain structurally sound.
Time savings: Restoring water-damaged hardwood floors is a complex process that requires specialized equipment and expertise. Fortunately, Dalworth Restoration has adequate experience and equipment that can save your time and effort, and ensure that the job is done correctly the first time.
Health benefits: Water damage can lead to the growth of mold and other harmful micro-organisms, which can pose a health risk to you and your family. We can help to eliminate these harmful organisms and improve indoor air quality.
Contact Us for Water Damage Restoration Services in DFW
When you are dealing with water damage to your hardwood floors, it is important to work with a professional restoration company like Dalworth Restoration that can assess the damage and provide a comprehensive restoration plan to bring back the beauty of your floors.
Dalworth Restoration is your top option for water damage restoration services to save your hardwood floors. We have more than 45 years of professional expertise in this industry. Get our service in the surrounding cities of North Texas by calling us at 817-203-2944.