DFW's Trusted Leader in Restoration and Clean-Up, Since 1976
24/7 Emergency Services
Over 68,150+
Successful Restoration
Projects Complete
24/7 Emergency Services
Free Estimates
Work Directly with All Insurance Companies
Bonded & Insured
Sump Pump Overflow Clean Up & Repair in DFW
There are an array of reasons why your sump pump may overflow: from electrical outage to over-saturated soil to pure negligence. This overflow can be disastrous especially if it is in your basement. Whatever the cause may be or wherever may it occur, a single overflow can be enough to flood your whole house. So the best thing to do is call a professional restoration contractor to fix it swiftly and properly. 
Dalworth Restoration is a licensed, local professional restoration contractor who offers all kinds of restoration services including all kinds of water damage restoration services such as sump pump overflow clean up and repair. We offer services in Dallas, Fort Worth, Little Elm, Lucas, Blue Ridge, Grand Prairie, Irving, Lancaster, and throughout the greater Dallas/Fort Worth area.
So if you are in need to sump pump overflow clean up or repair service calls us today at 817-203-2944 for a free consultation.
What Causes Sump Pump To Overflow in DFW Basement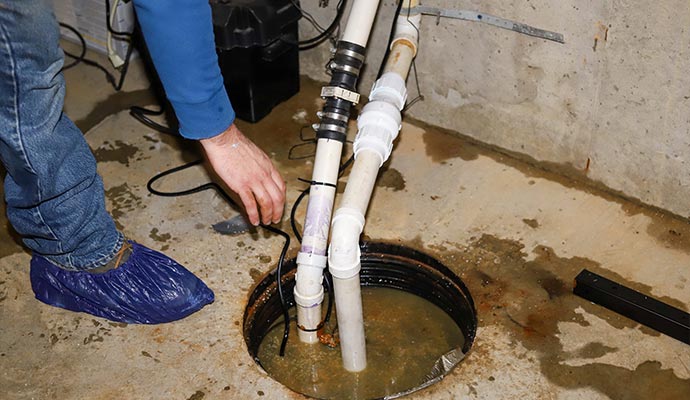 Electrical Outage: This is one of the top reasons behind sump pump overflow. This can occur during a storm or other natural disasters.  
Under-powered Sump Pumps: Larger homes with normal-sized pumps, areas with high water tables, or that are prone to high seasonal rainfalls might be prone to sump pump overflow as the capacity of the pump is not enough.
Failed Sump Pump: After the winter/cold season, the soil becomes overly saturated with water. Water begins to collect and flow along your home's foundation, down into your basement, and into your sump pump basin. When a sump pump fails, this water continues to rise until it reaches the basement floor level, flooding your home.
Sump Pump Clog: A clog can cause a basin to overflow. If the float valve is stuck or the check valve is clogged your sump pump will not work properly as well.
A Bad Discharge Pipe: Your discharge pipe is supposed to take water safely away from your house. If it fails to do so, that water will quickly find its way back into your basement.​
Unplugged: If your sump pump is accidentally unplugged, it cannot do its job.
Neglect: Not regularly testing, cleaning, and maintaining sump pumps can lead to their failure and overflow during critical times. 
Solutions For DFW Basement Sump Pump Overflow 
Contact professional restoration contractors like Dalworth Restoration for prompt response, quick crew dispatch, in-dept inspection, accurate diagnosis, and fast and quality sump pump and sump pump overflow clean-up service.  Water damage restoration services you can avail of also include basement waterproofing, water extraction, and much more.


Why Choose Us?
Dalworth provides a complete range of sump pump overflow and other water damage services such as installation, cleanup, replacement, repair, dry out, and more both for home and office. 
We will work directly with your insurance company to file your claim. Also, we have a 24/7 emergency response team to dispatch to your site anytime and can be on-site in about an hour.
We have IICRC Certified Restoration Crews and use State-Of-The-Art Equipment. 
Contact Dalworth Restoration at the first sign of water leaks, mold damage, or water damage at 817-203-2944 or online here to get the best restoration solutions and services in your locality.