DFW's Trusted Leader in Restoration and Clean-Up, Since 1976
24/7 Emergency Services
Dalworth Restoration Brings Employees Together With FOOD!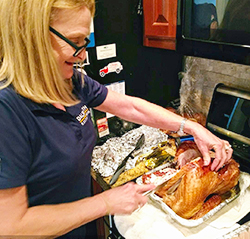 It's not the aroma of turkey and pies that waver into our noses no matter where we happen to be in the building.  It's not the smorgasbord of delicious food we fill our bellies with, even though we tell ourselves "I'm so full!" and then proceed to take one more bite.  What really makes us excited for the annual Thanksgiving potluck is the time we get to share with our coworkers; the planning, prepping, cooking and then relishing in the realization that the people at Dalworth Restoration are really pretty awesome!
Over A Decade Of Turkeys!
The Thanksgiving potluck is a Dalworth Restoration tradition that has lived on for over a decade now.  It is usually held the week before Thanksgiving, as to not interfere with the actual day itself and any vacations one might have during that time.  The food has been more-or-less the same throughout the years; turkey, ham, stuffing, potatoes, rolls, etc., however, the individual touches that each person brings to the food they prepare, is what makes each year brand new again.  What I find interesting are all the different ways each person cooks their signature dish.  It's as if we're getting a "taste" if you will,  into the each person's family history, learning something new about them - through their food.  Sometimes the recipe may be from their great-grandmother or maybe it's just something they've always done on their own.  Either way, they are sharing a part of themselves with the group and we are getting to know one another a little better. 
A Blended Tribe Makes For Great Food
A blend of cultures can also make for some amazing and interesting food.  At a potluck, you are given the chance to try a dish from another part of the world or taste a different twist on a staple dish we may all be used to.  For example, at our most recent potluck, there were varying options for potatoes, dressing and green bean casserole; it was fun to try them all and taste the different spices or ingredients in each one.  
The Power Of A Potluck
Potlucks are for sharing; sharing traditions, sharing a space and sharing each other's company.  The differences in food and ways of celebrating, end up uniting us, and our culture becomes stronger.  This time of year also gives us a chance to reflect on what we are thankful for; having a job and great employees are on that list.  We are a community.  We are a tribe.  And the people at Dalworth: Are. Really. Pretty. Awesome!
---
Dalworth Restoration
When fire, flood or storm damage occurs to your North Texas residential or commercial property, contact Dalworth Restoration—a restoration company you can trust to get the job done professionally and efficiently, to your expectations, satisfaction guaranteed.
Dalworth Restoration
12750 S. Pipeline Rd.
Euless, TX 76040