DFW's Trusted Leader in Restoration and Clean-Up, Since 1976
24/7 Emergency Services
DFW's Trusted Leader in Restoration and Clean-Up, Since 1976
Over 62,000+
Successful Restoration
Projects Complete
24/7 Emergency Services
Free Estimates
Work Directly with All Insurance Companies
Bounded & Insured
Repair Your Fire Damaged Appliances in Arlington, McKinney
Appliances catching fire is one of the most frightening things that can happen in your home. Whether it's due to an electrical problem with the appliance or a fire that started elsewhere on the premises, the consequences are the same. Fire damage to your appliances can devastate your home or business.
There are no words to describe the distress and suffering that comes with discovering your appliances have been severely damaged by a fire. The experience can be traumatic, especially when valuable personal belongings are covered in smoke and soot.
Dalworth Restoration responds immediately with fire damage appliances restoration services in the Dallas, TX area to help homes and businesses recover from these horrible circumstances.
Our fire restoration team understands the urgency and need to restore building materials right away, which is why we are available 24/7 to arrive within 2 hours, stabilize and board up the property, and begin the fire damage appliances repairing process immediately.
Please call us today at 817-203-2944 to know more about our service with free estimates!
Professional Fire Damaged Appliance Repairing in Arlington, McKinney & DFW
Our disaster restoration professionals are fully trained to address the fire damage in your home and create a plan that will eliminate odors and damage, restore your salvable appliances, and minimize future damages to your home.
Our technicians perform their duties thoroughly screened, insured, and they are well trained in utilizing the latest in mitigation technology and procedures while operating under a strict code of ethics.
Our service area includes Addison, Allen, Ana, Bedford, Benbrook, Celina, Coppell, Denton, Ennis, Ferris, Frisco, Haslet, Hurst, Irving, Justine, Krum, Lucas, Milford, Plano, Venus, Weston, and nearby communities.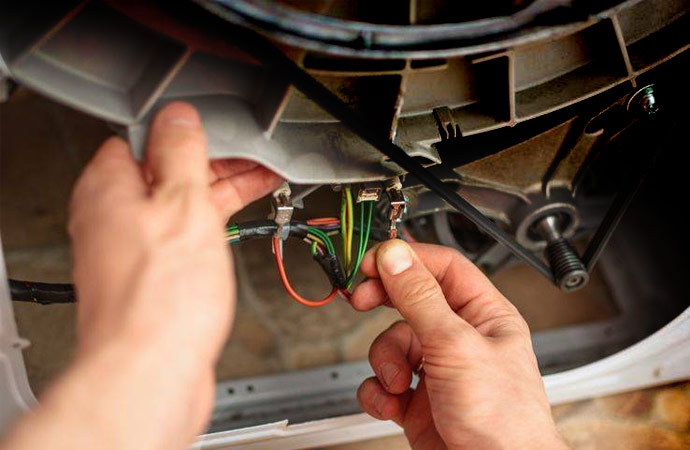 Fire Safety Tips for Appliances:
Maintain a safe distance between appliances and wet areas, particularly in the bathroom, kitchen, garage, or basement.
Keep flammable items such as furniture, clothes, and curtains away from heaters and other heat-producing appliances.
If it sputters, produces a spark, or gives you a shock while running, repair those as soon as possible
Never plug a three-prong plug appliance into a two-prong outlet or extension cord.
Cords should never be run below the carpets or rugs, as this can damage the wires and cause a fire.
Appliance wires should be checked on a regular basis.
Only one wattage appliance should be plugged into a power outlet at a time.
When irons, toasters, hairdryers, and shavers are not in use, unplug them.
Smoke alarms should be installed on each level of your home. Replace batteries every year and test the alarms once a month.
Comprehensive & Affordable Fire Damaged Appliances Repairing in Arlington, McKinney & DFW
Our technicians immediately start to clean and restore the appliances at your home. With our comprehensive range of fire damage services, including soot, smoke, and odor removal, Dalworth Restoration has got you covered.
We will get your property back to normal faster. Our specialized training, cleaning methods, and equipment combined with our experience mean quicker clean-up and lower smoke damage restoration costs. We can save your personal possessions using specialized equipment and cleaning methods, often being able to restore the contents of your home to their prior condition. We will assist with the insurance claims process to make it as painless as possible for you.
Besides fire damage restoration, we also provide service for water damage restoration, storm and flood restoration, mold remediation, content restoration, sewage removal & cleanup, and more!
To get our services please call us today at 817-203-2944 or contact us online.