DFW's Trusted Leader in Restoration and Clean-Up, Since 1976
24/7 Emergency Services
DFW's Trusted Leader in Restoration and Clean-Up, Since 1976
Over 62,000+
Successful Restoration
Projects Complete
24/7 Emergency Services
Free Estimates
Work Directly with All Insurance Companies
Bounded & Insured
Garage Water Damage Services in Dallas/Ft Worth & North Texas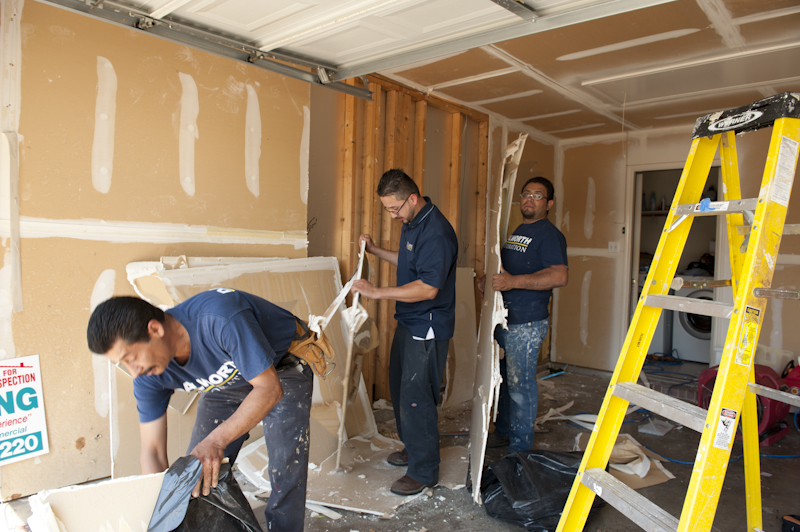 Garage water damage is inevitable in many cases with storms and flooding in the North Texas area. If you have experienced garage flooding, take immediate action by calling Dalworth Restoration at 817-203-2944 for water clean up and removal to prevent structural water damage or mold damage. We will inspect your garage and surrounding area for water damage and provide a FREE estimate before we begin any work.
Garage Upgrades
Garage Water Damage often accounts for significant water damage restoration repair costs. Garages require proper insulation and air sealing for protection from the elements including water damage, flooding, and air leaks.
Dalworth Restoration provides garage upgrades for a well-sealed garage that will keep out water and outdoor air, improving the energy efficiency of your home.
Garage Insulation
Garage Weather Stripping
Insulation around Garage Living Spaces
Our expert technicians will perform a FREE Inspection of your garage to check for a properly fitting garage door, proper amounts of insulation, proper air sealing and weather stripping to prevent or greatly reduce water damage in the event of flooding and storms.
Contact Dalworth Restoration today for a an inspection and an estimate in our Dallas/Fort Worth Service Area. We are standing by to take your call at 817-203-2944.
Garage Insulation Benefits
There are multiple benefits to having your garage insulation replaced as well as the insulation throughout your home or business:
Lower Utility Bills
Increased Energy Performance
Improved Air Quality
Decreased Dust, Rodents and Pests
Contact Dalworth Restoration to find out about all of our energy performance upgrades and home energy savings services to make your home more comfortable and energy efficient.
Contents & Water Damage Restoration Services
Water needs to be cleaned up immediately after a garage flood from heavy rains, storms, floods and water leaks in the home. Water damage can cause more serious problems such as warped wood and damaged sheet rock. To avoid water damage, it is important have your property inspected from the roof to the garage. The roof should be inspected for missing shingles or deteriorated flashing, which can cuse water leaks in the attic, above garage living area and garage as well as other areas of the home. Call Dalworth Restoration today at 817-203-2944 to check for the following types of water damage.
Contact us today. Dalworth Restoration will inspect your residential or commercial property for FREE to determine the extent of property water damage. We will provide you with a water damage restoration solution and FREE estimate. We serve Dallas, Arlington, Fort Worth and surrounding North Texas cities. Check out our Dallas/Fort Worth Service Area to find your city. Call 817-203-2944 to find out more about all of our water damage restoration and fire damage restoration services in North Texas.