DFW's Trusted Leader in Restoration and Clean-Up, Since 1976
24/7 Emergency Services
Over 68,150+
Successful Restoration
Projects Complete
24/7 Emergency Services
Free Estimates
Work Directly with All Insurance Companies
Bonded & Insured
Restoration Cleaning Services in Dallas & Fort Worth
When a homeowner puts blood, sweat, tears -- and thousands of dollars -- into building his or her dream home, the last thing you want is to have it damaged. But accidents, major storms, and natural disasters always occur without warning. These unsettling events require clean-up and restoration services.
Fortunately, Dalworth Restoration is ready to step up at a moment's notice when you have suffered a catastrophic event that requires restoration cleaning services in Dallas, Fort Worth, Arlington, Frisco, and other cities we serve throughout DFW. Dalworth Restoration is the licensed, professional, local restoration & clean-up service provider you can trust to get the job done right. Since 1976, we have offered a complete range of cleaning services for all kinds of residential and commercial properties.
We have certified professionals, advanced techniques, and state-of-the-art equipment and facilities to deal with any kinds of clean-up challenges. For one of the industry's best, most reliable, and fastest restoration cleanup services, call us today at 817-203-2944 for an appointment.
Clean-Up Services Offered by Dalworth in Frisco, Plano, Hurst, & McKinney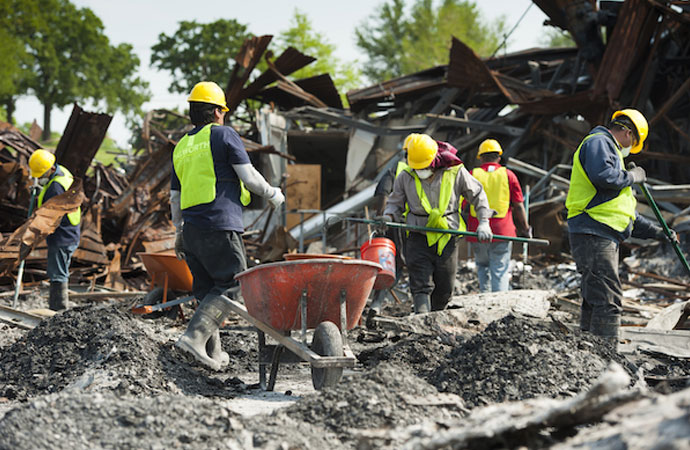 Disaster Clean-Up: We provide cleaning services for any kinds of man-made and natural disasters such as storms, flooding, tornadoes, etc.
Overflow Cleaning: We also offer various overflow clean up services such as toilet overflow, sink overflow, and many more.
Construction Clean-Up: Are you doing any renovation work on your property? Doesn't matter how good the after result maybe cleaning up all the construction mess can be a headache. That is why we have an experienced crew who can take care of the dust, leftover parts, and more.
Mold Cleaning: If your house is suffering from dampening damages such as mold growth our team can help you get rid of them in the safest, most careful way possible so as not to damage your home or its belongings.
Sewage Cleaning: Dalworth Restoration specializes in sewage removal and cleanup in the Dallas Fort Worth metroplex. We employ specially trained sewage decontamination crews who are on call 24/7.
Post Accident Clean-Up: Whether it's a fire, accident, indoor-flooding, or any other unfortunate incidents we can offer the best clean-up packages.
COVID-19/Coronavirus: Keeping your home disinfected and your family safe from viruses and other harmful microorganisms has never been more important than now. In this coronavirus pandemic let us help you by cleaning up your house with our high-quality, non-toxic disinfection solutions. Our crew will come wearing all the standard precautions the local regulators have mandated.
and many more: Contact our 24/7 customer service team to learn more about our cleaning services
Choose Dalworth for Restoration Cleaning Services in Irving, Denton, & Aledo
For more than 40 years, Dalworth Restoration has provided all kinds of restoration and clean-up services in North Texas and the DFW Metroplex. Our IICRE-certified crews offer expert inspection, installation, repair, replacement, and clean-up services for all kinds of residential and commercial properties. We also work with most insurance companies and understand the insurance industry rules and regulations very well. The work we do is generally covered in your insurance policy. When you need our help, call us at 817-203-2944 or contact us online and we will be happy to help you in Westminster, Weston, Heath, Highland Park, and other Dallas–Fort Worth cities that we serve.