DFW's Trusted Leader in Restoration and Clean-Up, Since 1976
24/7 Emergency Services
DFW's Trusted Leader in Restoration and Clean-Up, Since 1976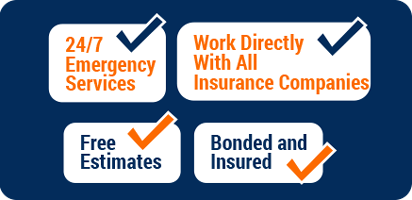 A/C Unit Drain Overflow Service in DFW
An important part of your air conditioning unit is the condensate drain which is a small dripping line on the outside. This drain removes condensation produced by your air conditioner's evaporator coil. If the line isn't properly cleaned, it can cause the A/C unit drain to overflow which then results in many issues such as algae and mold growth inside clogging the drain, elevated humidity, musty odors, water damage inside your home, and much more. To prevent all these, routine maintenance service of your Air conditioner unit from professionals is important.
Dalworth Restoration is a licensed, local professional restoration contractor who offers all kinds of restoration services including appliance leak cleanup, water extraction, water damage, and structural drying services. We offer services in Dallas, Fort Worth, Addison, Balch Springs, Carrollton, Grand Prairie, Irving, Lancaster, or any other city in our North Texas Service Area.
So if you think your A/C unit drain is having an overflow problem call us today at 817-203-2944 . Our 24/7 emergency response team will be there in no time.
Causes of A/C Unit Drain Overflow in DFW Homes
Clogged Drain Line
A clogged condensate drain line is the most common cause of water leaking from your AC into your home. If the drain line gets clogged with dust, dirt, sludge, or mold, that water backs up into your home. In that case, you'll need to unclog it.
Mold, Algae, and Other Fungus
When an air conditioner's drain pan is full of water, the most common culprit is a clogged drainpipe. Inside the refrigerant coils and pipes is a breeding ground for algae, mold, and the like. Over time, algae and mold can clog the A/C drain pipe and cause water to build up and leak into the drain pan.
Cracked/Corroded Drain Line/Leaks
A/C unit drain overflow can also originate from a cracked or corroded condensate drain pan. The drain line can form cracks or holes due to stress, accidental impact, or age. Clogs caused by debris or mold can also cause leaks through an overflowing condensate drain pan.
Problems Caused By An A/C Unit Drain Overflow
If you get a drain line clog, water can build up and flows OVER the "overflow" pan and onto the attic floor or in your HVAC closet creating havoc with your system, potentially causing it to shut down, water flow to slow down or in more extreme cases, causing water damage to your home.
A/C unit drain line overflow will damp many parts of your home creating conditions that are ripe for the development of mold and algae. As these organisms develop, they can contaminate your indoor air, which can lead to health problems. They can also damage your A/C equipment and contribute to condensate drain clogs.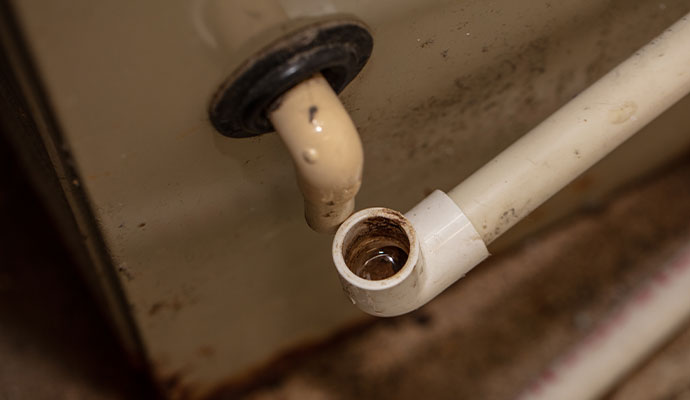 Prevent/Repair A/C Unit Drain Overflow By DFW Experts
Dalworth Restoration has been in the water damage restoration industry since 1976. We have completed over 57,200 successful restoration projects to date. Our service caters to both residential and commercial properties.
Our professionally trained technicians are certified through the Institute of Inspection Cleaning and Restoration Certification (IICRC) and are dedicated to serving our customers, making Dalworth a household name. Customers and insurance companies prefer Dalworth Restoration and clean-up services based on our reputation and satisfaction guarantee.
Our water damage restoration services include plumbing, drain and sink, appliance leak cleanup, burst & frozen pipe repair, and more.
Make an appointment with our experienced professionals to find and fix the source of your A/C unit drain overflow, so you can avoid dangerous damages and expensive repairs. If you don't currently have a drain overflow problem, we still recommend getting your Air Conditioner unit inspected annually as a preventative measure.
Call us today at 817-203-2944 or complete our online contact form and our team will get back to you soon.