DFW's Trusted Leader in Restoration and Clean-Up, Since 1976
24/7 Emergency Services
DFW's Trusted Leader in Restoration and Clean-Up, Since 1976
Restoration of Wood Floor Damaged from Leak in Dallas
Wood floor damage is one of the most common problems faced by most homeowners. Small leaks that you clean immediately will not damage your wood floor. But your floor or foundation can be harmed by other factors such as high humidity, condensate leakage, dampness under the floor, excessive leakage, or water leakage.
The cellulose fiber in wood absorbs water quickly and slowly releases it. A vacuum cleaner should be used to immediately collect water. Even if you believe the veneer is water-resistant and does not penetrate the raw wood beneath it, you must exercise greater caution. Under the wood flooring, there are several layers that are positioned between the joints and veneers, as well as heating systems and wiring. To prevent the growth of mold and algae, pollutants must be removed. Mold growth is caused not just by water but by a combination of water and pollutants. It is important to try to restore the floor as quickly as possible.
If you are having issues with your wood floor damaged by leaks, you can count on Dalworth Restoration. Our company is reliable to get the job done professionally and efficiently, to your expectations, satisfaction guaranteed. We provide our services to people living in Dallas, Fort Worth, Arlington, Plano, and our other service areas. Call us anytime at 817-203-2944 for further information.
Services Provided by Dalwaorth Restoration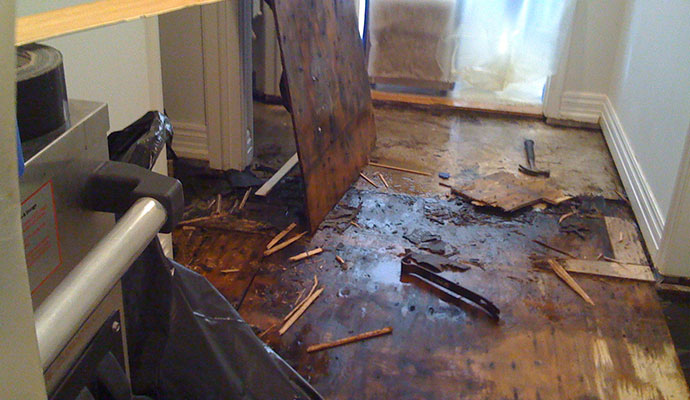 Why Choose Dalworth Restoration?
24/7 Emergency Response
On-Site In About An Hour
Inspections
Insurance Billed Direct
IIRC Certified Restoration Crews
State-Of-The-Art Drying Equipment
Trust Us for Wood Floor Damage Restoration Service
Our certified water restoration technicians are always ready to assist you whenever you need our help regarding your wood floor damage or any water damage issues. We provide our services in Dallas, Fort Worth, Arlington, Plano, and our other service areas, call us at 817-203-2944 or visit us online.